Andrew's Travel Hacks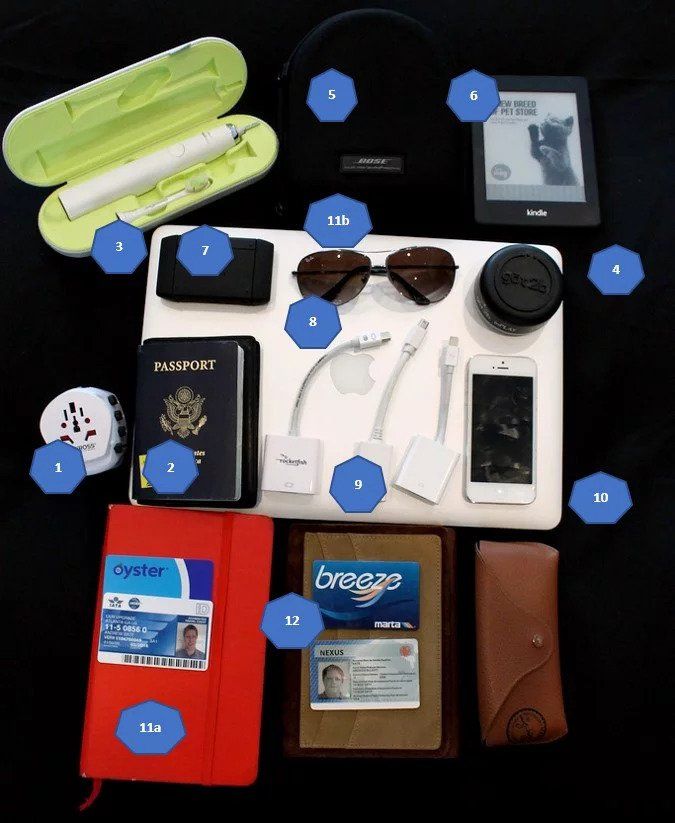 Andrew is on the road a lot. A lot a lot. Here, he shares his list of must-have travel items.
1 + 2
A universal power adapter by Swiss company, Skross, and passport with extra pages and an unmarked electronic-shielded passport cover by Mori Luggage ensures Bate is ready to travel beyond U.S. borders on short notice.
3 + 4
The electric toothbrush with USB adapter by Phillips and hair pomade is Bate's secret to a quick transition from weary traveler to meeting-ready CEO after a quick SkyClub visit.
5 + 6
Bose noise cancelling headphones and a Kindle help make bi-coastal and international flights go by faster.
7 – 10
A MacBook Pro, cracked iPhone, mobile hotspot from AT&T and an assortment of dongles keeps Bate connected and presentation-ready.
11a – b
Raybans and a moleskin notebook come in handy for the occasional downtime.
12
The Nexus card not only allows easy US – Canadian border crossings, but also enrolls him in the Global Entry Program and TSA Pre-Check which makes security checks effortless. The IATA travel agent card ensures discounts and commissions for his travel, and the Breeze and Oyster cards get him around in London and Atlanta.
Read more about Safely on Hypepotamus
Protect your business from costly damages with Safely's short-term rental insurance.
Safely's Short-Term Rental Protection
Predictable coverage for unpredicable moments
Get A Quote
Subscribe to our articles