Top U.S. Short-Term Rental Trade Shows and Conferences for Property Managers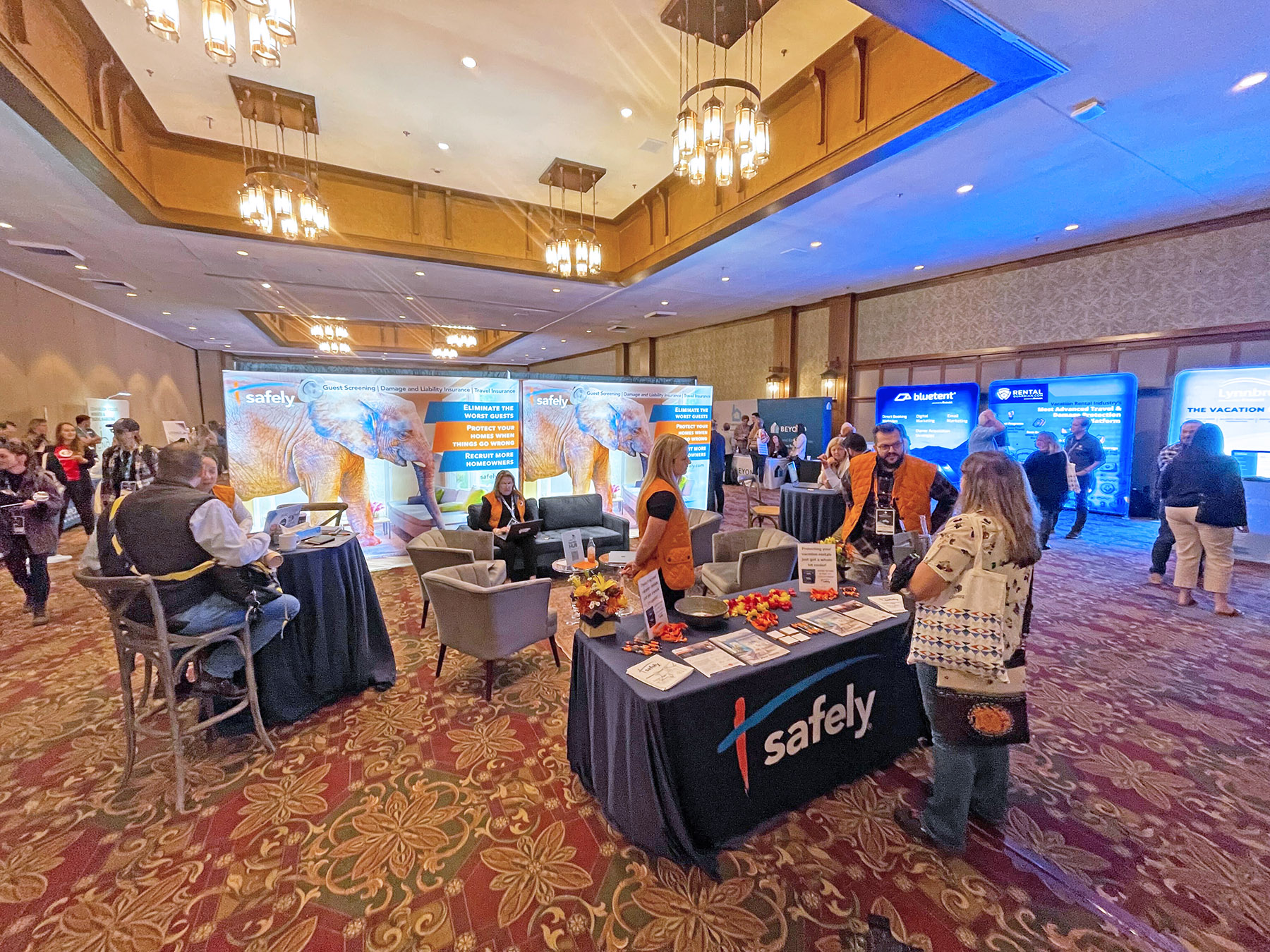 For property managers looking to stay ahead in the ever-evolving realm of short-term rentals, attending industry conferences is a great opportunity to learn from your peers. These gatherings are not just for networking but also serve as knowledge hubs where thought leaders in the vacation rental field share their insights, look at emerging trends, and focus on innovative strategies. The U.S. plays host to dozens of short-term rental conferences, each offering its unique blend of learning and networking.
Not sure where to start, or what are the best short-term rental conferences to add to your calendar? Look no further! We've compiled a list of the top short-term rental conferences in the U.S. that should be on every property manager's radar.
Why should I attend a short-term rental conference?
As we mentioned above, attending a short-term rental conference can provide valuable insights, networking opportunities, and educational sessions for those in the vacation rental industry, including property managers, OTA operators, vendors and other companies associated with the industry. These conferences offer a chance to connect with other professionals in the field, learn about new trends and technologies, and gain actionable advice to improve business operations. Most attendees come away from a trade show invigorated and full of ideas and information that will benefit their company.
User Conferences from property management software companies are also great events to attend.
Additionally, most property management systems (PMS) have their own user conferences with education specific to their PMS, and they also include vendors they consider strong partners. Attendance at user conferences can be existing customers of the PMS company or anyone who wants to know more about the company and its offerings. Attending a short-term rental user conference can be a great way to enhance your knowledge and skills in the industry and make valuable connections that can help improve your business processes.
What are some of the top Short-Term Rental Conferences in the United States?
Now that you understand the value of attending a short-term rental conference, let's take a look at some of the top conferences happening in the United States.
VRMA
VRMA, or the Vacation Rental Management Association, is an organization that advocates for and advances the professionally managed vacation and holiday rental industry. It provides education, information, and networking opportunities to support vacation rental professionals at all levels of experience. As one of the leading organizations in the industry, VRMA holds several events throughout the year, with its two biggest being the VRMA International Conference and the VRMA Spring Forum.
VRMA International
The VRMA International Conference is held in the fall and is the largest event for the vacation rental management industry. This conference typically lasts for several days and features keynote speakers, educational sessions, and networking opportunities for attendees from around the world. The conference is designed to provide attendees with valuable insights and practical skills to improve their business operations and stay up-to-date on industry trends.
VRMA Spring Forum
The VRMA Spring Forum takes place in the spring and is a more intimate event, focusing on smaller group interactions and networking opportunities. This conference is designed vacation rental professionals who want to dive deeper into industry topics and trends. The VRMA Spring Forum includes educational sessions, roundtable discussions, and networking events along with an extensive array of vendors on the event floor.
VRMA Executive Summit
In addition to the two main events, VRMA also hosts the VRMA Executive Summit, which is designed for senior level executives and thought leaders in the vacation rental management industry. The summit focuses on high-level discussions and strategic planning for the future of the industry.
Explorefest from Expedia
EXPLORE Fest is hosted by Expedia for vacation rental industry leaders to come together and discuss the future of travel. Past events have focused on using technology to create amazing guest experiences and how innovation can help grow your business. Speakers at EXPLORE Fest have included a who's who of talent from across the short-term rental spectrum. Overall, this event provided an opportunity for vacation rental professionals to stay up to date with industry trends and network with peers.
Streamline Summit User Conference
The Streamline Summit is a three-day user conference held annually for property managers and partners. The event features a combination of education, networking, and fun activities and is held at the Phoenician Luxury Resort in Scottsdale, AZ. Attendees will have access to Q&A sessions, workshops, cocktail parties, and golfing activities. Some of the top events include a Housekeeping Round Table, Maintenance Round Table, Level Up Business Strategies Sessions, and Eight Unique "Modes" of Educational Sessions.
Barefoot User Conference
The Barefoot User Conference is an annual event held by Barefoot, a vacation rental software company. The conference provides a forum for Barefoot's clients to learn, collaborate, and network with other vacation rental professionals. The conference includes several key events such as partner networking, round table discussions, and has included popular sessions such as Bad Stays and Bourbon Chasers (presented by Safely), and A Data-Driven Future: How New & Actionable Data Sets Can Influence Your Success. The conference also features keynote speakers, educational sessions, and workshops. This conference is an ideal opportunity for vacation rental professionals to stay up to date on industry trends and network with peers in an engaging and collaborative environment.
NEXT: TravelNet Solutions User Conference
The NEXT TravelNet Solutions User Conference is an annual event that brings together hundreds of vacation rental and hotel professionals to learn about game-changing solutions transforming the hospitality industry. The conference takes place in various cities and focuses on transformative technology. Attendees can expect over 60 hands-on training sessions, collaborative workshops, and keynote speeches from industry leaders. The NEXT conference is a platform for growth-oriented hospitality leaders to push boundaries, learn, and share best practices with one another. This event has become an energizing forum for professionals looking to stay up to date with industry trends and connect with peers.
Ignite Partner User Conference by LiveRez
LiveRez, a leading vacation rental software provider, holds an annual partner conference called Ignite, aimed at providing its partners with the tools and knowledge to ignite their business growth. The conference offers educational sessions, hands-on boot camps, and discussions on revenue optimization, marketing strategies, guest satisfaction, technology advancements, and leadership development. The event also provides unrivaled networking opportunities for LiveRez partners to connect with industry leaders and vacation rental experts.
FAVR Vacation Rental Xtravaganza
If you have short-term rentals in Florida, FAVR Vacation Rental Xtravaganza is one to look for. This conference organized by the Florida Alliance for Vacation Rentals (FAVR) brings together vacation rental professionals, vendors, and suppliers from across Florida. The event speaks specifically to Florida short-term rentals and offers a packed agenda of keynote speeches, panel discussions, breakout sessions, and exhibitor showcases. The event aims to help vacation rental professionals navigate the ever-evolving industry landscape and gain a competitive edge in the Sunshine State.
Northwest Vacation Rental Professionals Conference
The Northwest Vacation Rental Professionals Conference is organized by the Northwest Vacation Rental Professionals (NWVRP), a group of independent property managers operating in the vacation rental industry in (where else?) the northwest. The conference offers attendees a variety of educational sessions, workshops, and networking opportunities aimed at providing vacation rental professionals with the tools and knowledge necessary to be successful in the industry. While this is a smaller conference compared to others on this list, it offers a more personal and intimate experience for attendees to connect with peers and learn from industry experts who specialize in this area of the country.
Vacation Rental Women's Summit
The Vacation Rental Women's Summit  celebrates women in the vacation rental industry. It offers attendees inspiring keynote speeches, educational sessions, and networking opportunities focusing on the women who are leading the industry to its next level of growth and sustainability. Whether you are a seasoned executive or new to the industry, the Vacation Rental Women's Summit is the place to learn what's new in our sector and be motivated, inspired, and rejuvenated.
Safely's Short-Term Rental Protection
Predictable coverage for unpredicable moments
Get A Quote
Special Events professional Amy Kam considers her life an adventure, whether she's managing logistics to ensure successful travel and events for the Safely team or planning her own pleasure excursion. With extensive experience planning and coordinating meetings and events for international and domestic organizations, she has more than 15 years of event experience, has worked for an international leadership networking organization, a major U.S. law firm with offices in nine cities, and a large consulting firm.
Subscribe to our articles