How to Market your Vacation Rental for the Best ROI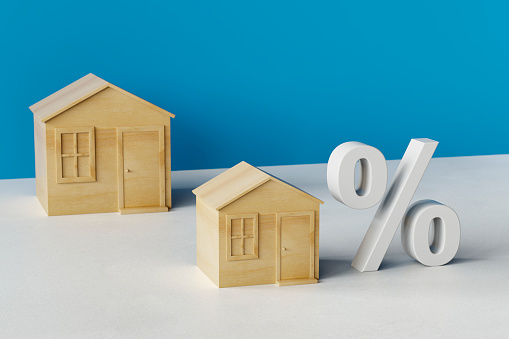 Growing your vacation rental business requires a constant balance—you want to capture new guests and expand your portfolio while finding a way to maximize your return on investment (ROI). Plus, undertaking your own marketing efforts can be daunting if you're a property manager stuck in the day-to-day of your operations.
But marketing doesn't have to cut into your profits or time. We're here to show you realistic, actionable marketing strategies for vacation rentals to make your properties stand out and help you get more bookings.
We'll be taking a look at
Listings and online travel agencies (OTAs)
Your direct booking site
Guest protection
Marketing channels (search engine optimization (SEO), email marketing, and social media)
Your online profile
Reviews
Protect your business from costly damages with Safely's short-term rental insurance.
Add value to your listings
OTAs like Airbnb and Vrbo are the primary place potential guests will find you. So you need to create professional, eye-catching listings to set yourself apart from the competition.
Here are a few features that can turn a good listing into an excellent one.
Use professional images
According to Airbnb, photos are one of the top three reasons guests choose to book, and listings with professional photos get 20% more reservations. Professional photography is an investment that can pay itself off in just a booking or two and will have a big impact on your occupancy in the long run.
Create a detailed listing that addresses common guest questions
Guests don't want to be left with questions after reading your listing, so be comprehensive in your listing, both in your descriptions and your photos. This also helps build trust with prospective guests, as they see you're transparent about the details of your property.
But no matter how thorough your listing is, many guests still have questions. Use the most common inquiries you receive from prospective guests to constantly update your listing and make it as informative and attractive as possible.
Be honest and accurate
You can increase your chances of getting five-star reviews by being honest and accurate in your listing. Highlight what you're good at and be clear about any potential issues—even if it means underselling your property a little, it's much better to be honest about where you fall short than set unrealistic expectations and disappoint guests, which can lead to negative reviews.
List on various OTAs and create a direct booking site
The following OTAs are just a few examples of the numerous bookings sites where you can create listings and attract your ideal guests.
Create visibility on big OTAs
The most popular OTAs are popular for a reason—this is where the majority of short-term rental reservations come through, and it's important to have visibility on a number of them.
Booking.com
Airbnb
Vrbo
TripAdvisor
Expedia
Free to list, then a commission fee, which can range between 10% and 15% of each booking, depending on property type and location.
Free to list, then a commission fee, which is typically 3% of each booking (this fee can be higher for Airbnb Plus hosts).
Vrbo offers two payment structures. The first is a flat annual rate of $499.

 

The second is a pay-per-booking commission model where you pay a 3% payment processing and 5% commission fee for each reservation.

TripAdvisor offers two payment structures. The first is an annual rate, which is determined by property type and location. The second is a free listing with a 3% commission on each booking.
Free to list, then a commission fee, which can range between 10% and 30% of each booking, depending on property location.
List your properties on niche OTAs
Don't forget to list on smaller, more specialized sites. Which OTAs are best for you will depend on the type of property you run and what your ideal guest profile is, but there are plenty of niche sites that are worth looking into, such as:
Pro tip:
If you decide to list on various OTAs, effective channel management will be essential to keeping track of all your reservations. Dealing with messages and booking requests from a number of platforms can be a lot to juggle, so use a channel manager and/or Property Management System (PMS) to stay on top of all your reservations and guest inquiries.
Use your own direct booking site to avoid steep commission fees
While it's important to list on a number of OTAs, a direct booking website can also be a significant source of reservations. And with your own website, you can avoid OTA commissions and build a recognizable, trustworthy brand your guests will want to rebook with.
Even if you've never built a website before, you can use a platform like WordPress or Wix to create one without the need for any coding knowledge or experience. But if this is too time-consuming, you can hire a website builder to set up your site. Just be sure to create a website that's mobile-optimized, as many prospective guests will visit your site via their smartphone.
When creating a direct booking site, keep your brand and ideal guest in mind—your website should convey the mission and values of your vacation rental business in a way that appeals to the types of customers you want to attract.
For example, if you want to attract families to your properties, emphasize room for gatherings and child-friendly homes. If business travelers are your target audience, make convenience and comfort a key part of your offering.
Aside from the way you market your brand on your website, there are some other important elements you should keep in mind when creating it, such as:
A booking widget with the ability to capture payments for direct booking capabilities
Ability to sync with your channel manager for double-booking protection
Social proof (like reviews and testimonials)
Professional imagery
A contact widget to instantly send inquiries
The key here is to create a smooth, frictionless experience for your guests when they visit your website.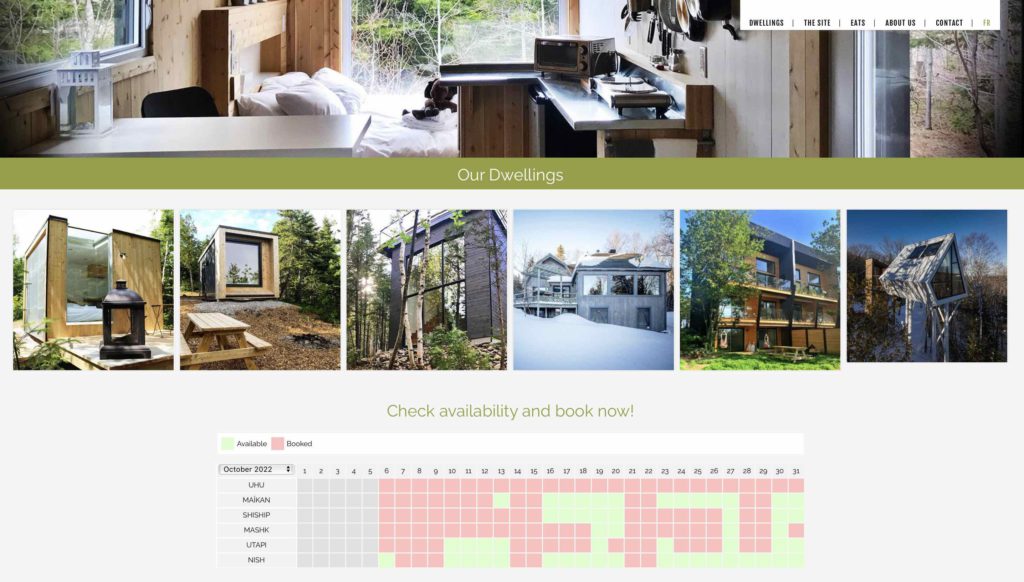 Pro tip:
When you receive direct bookings, you don't get any of the built-in coverage that many OTAs offer, like Airbnb's AirCover or Vrbo's liability coverage. So, it's essential to have specialized short-term rental insurance to protect you from any damage or accidents.
Offer guest protection
With short-term rental insurance that's activated for every booking, you can reassure guests they'll be covered if anything goes wrong during their stay. Plus, it's a frictionless solution—compare it with security deposits, which add a step to the booking process, not to mention an additional charge.
The security of knowing they're covered if something goes wrong during their stay is a big benefit for guests—families with children or travelers with pets will be especially reassured knowing they're protected from the costs of damage.
Highlight on your homepage and in your property listings that guests are automatically covered for damages and personal liability when they book at your short-term rental. Make this feature a key part of your messaging and brand image as a high-quality, professional vacation rental business.
Pro tip:
If you want to grow your STR portfolio, offering an added level of protection is a great way to attract homeowners and put their minds at ease.
Use various marketing channels and create a Google My Business profile
There are a number of marketing channels you can use to help promote your stays. Take a look at how you can make the most of SEO, Google My Business, email marketing, and social media for your marketing campaigns and efforts.
Create regular content for search engine optimization (SEO)
SEO is a marketing strategy that helps websites rank on Google. When a potential customer starts researching possible vacations and stays on Google, SEO can help your vacation rental website show up high in the search results.
SEO can have numerous benefits. First off, it's a long-term strategy, meaning it pays off long after you start investing in it. Plus, creating content for SEO not only helps you rank on Google, but also helps you build out your website and provide your guests with helpful information. Additionally, if you carry out your SEO strategy yourself, it's free.
Some essential SEO tactics include:
Publishing content on your website created around popular search terms (keywords) that relate to your offering, location, and ideal guest
Publishing relevant content regularly, like blog posts about events in your area and the types of accommodation you offer
Updating old content so it never has outdated information
However, SEO can be quite time-consuming when you're located in a highly competitive area. Plus, it goes deeper than just choosing popular keywords and writing content—the health of your website, as well as other technical and off-page SEO considerations, play a factor in rankings and organic traffic success. So be sure you work or consult with a professional when investing in SEO.
Local SEO is a great place to start in your content marketing efforts. To make local SEO work for you, create a Google My Business profile to enhance your visibility in your local market, research popular keywords in your area, and regularly create and share content that is helpful both for search engines and potential guests.
Something to consider:
Pay per click (PPC) ads are a popular marketing strategy for getting more visitors to your website. While this can in theory be a good approach for attracting potential guests, PPC ads should be used with caution, as this strategy can be much more costly than SEO (especially when used without the proper expertise or supervision).
Use email marketing to create loyal guests
Email marketing helps you keep in contact with previous guests or people who've shown an interest in staying at one of your properties.
To keep them interested in your properties, a great tactic is to send out a rebooking reminder with a discount if they book directly on your website. If you send this to an old guest about eight to ten months after their stay, you have a good chance of catching them just when they're beginning to plan another annual trip.
For more on email marketing tactics, see our post 13 Ways to Boost Vacation Rental Occupancy.
Be active on social media
Depending on your target audience, social media marketing can be an excellent way to create visibility for your properties and establish your brand image. The first step to making the most of social media is identifying your ideal guest and where they spend their time—older demographics will use Facebook more, while younger guests will spend their time on Instagram and TikTok.
Facebook can be a great social media channel for building a following and engaging your audience. You can share images of your property, information about activities in the area, and even video tours of your vacation rental to engage potential guests.
Take a look at Vayhaus, for example. This property harnesses social media to highlight its unique design and stunning location. Use your Facebook page to showcase what makes your property unique.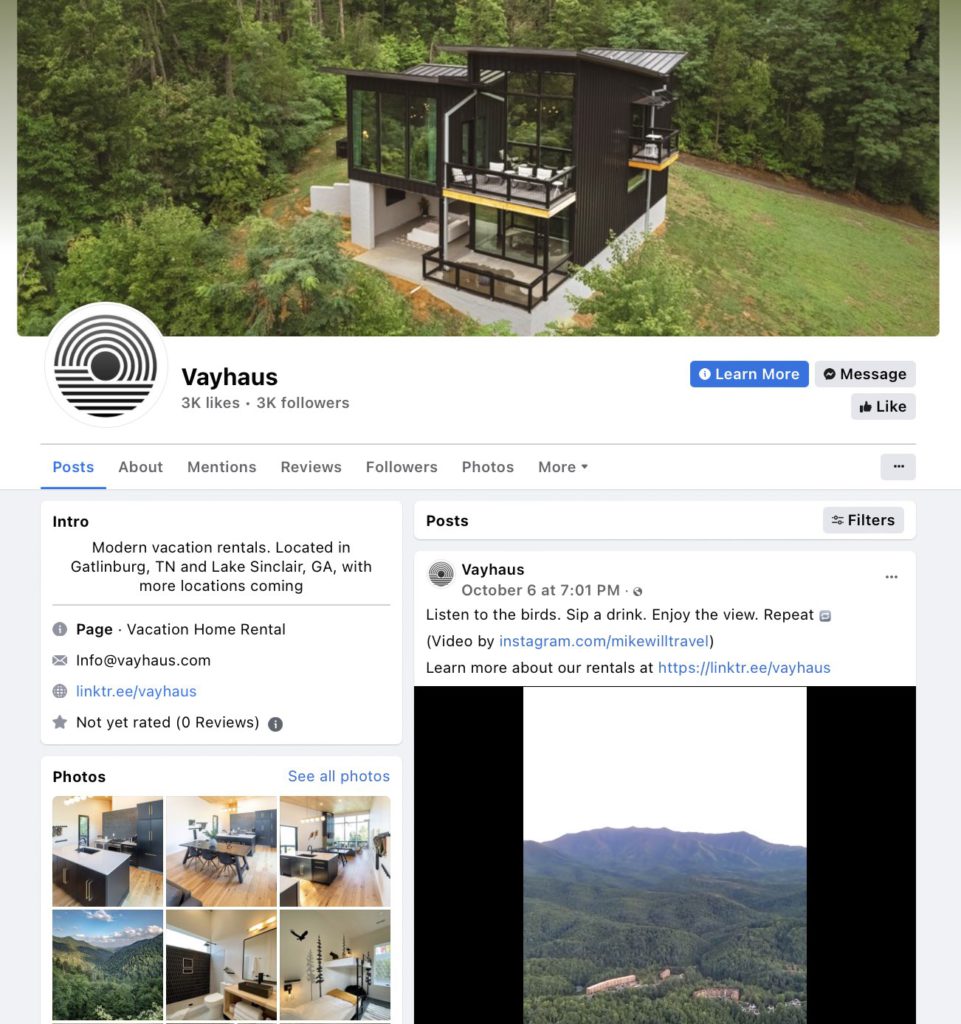 But perhaps the best social network for vacation rentals to leverage is Instagram. Because of its visual nature, you can use Instagram to showcase your beautiful property and its surroundings. And be sure to encourage your guests to share and tag you in photos of their stay to increase visibility.
The Mount Bain Cabin, for example, uses its Instagram account to feature a variety of images and give people a taste of what a stay at the property looks like. You'll find detail shots, pictures of the property and its surroundings, and pictures captured by guests during their stay.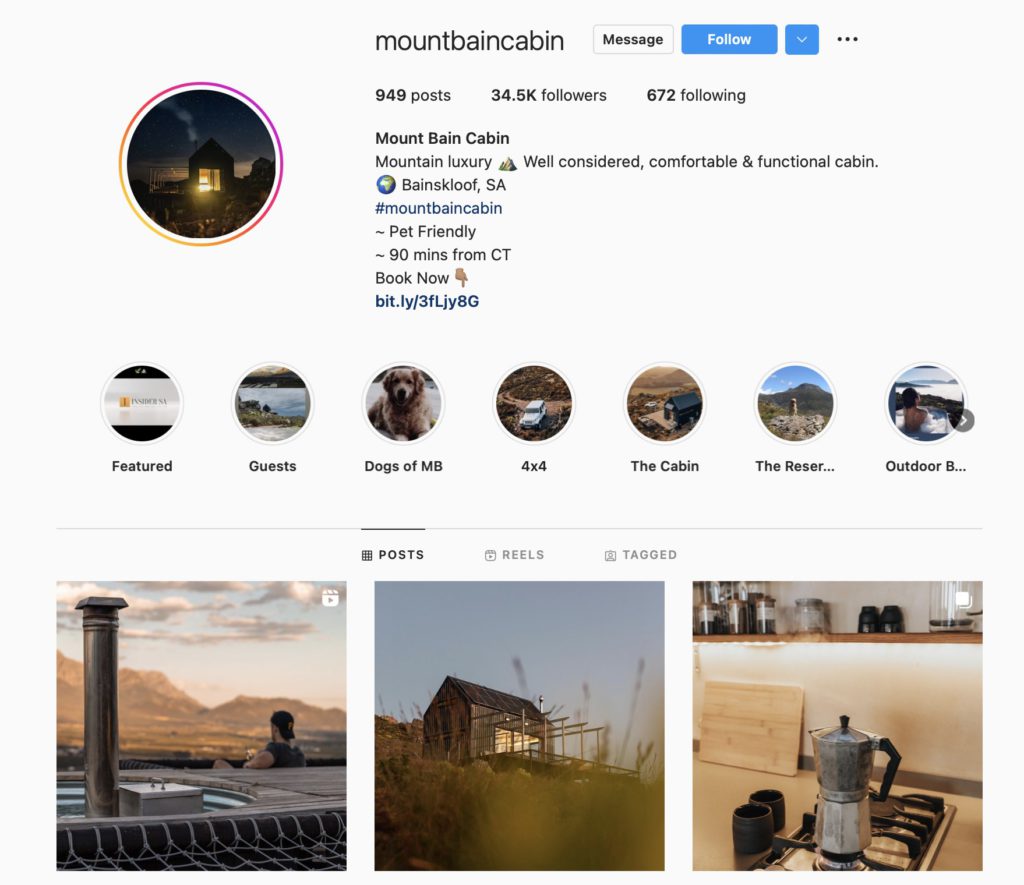 Create a strong online profile
Because digital marketing is such a key element of running a vacation rental business, having a strong and consistent online presence is an excellent way to make your short-term rental stand out. You should be recognizable by your unique image on all of your digital profiles, from listings and your direct booking website to social media accounts.
So, strive for a consistent tone across all the content you produce—what types of qualities do you want to embody? Exciting and unique for adventurous guests? Reliable and welcoming for digital nomads? Be sure this messaging fits well with your ideal guest profile and use it across all your channels.
Keep descriptions consistent across listings
You don't want your guests to find different information when they look at your listing on Airbnb vs. your direct booking website.
That's why your property descriptions should be consistent across all OTAs and websites—accuracy is an essential feature of your listing descriptions, and you don't want guests coming across information on your Vrbo listing that you don't have on Booking.com.
Research photos and professional tips
As we mentioned above, quality photos can make or break your listing. Hiring a professional photographer is the best way to guarantee quality photos that will draw in guests, but if you can't afford that investment at the moment, put some professional tips into action when taking photos of your property.
For example, use natural lighting whenever possible, and don't mix light sources—if you have to shoot an interior bathroom that gets no natural light, close the blinds and turn on all the lights. Also, take all your photos at the same time of day to achieve consistency in lighting and color.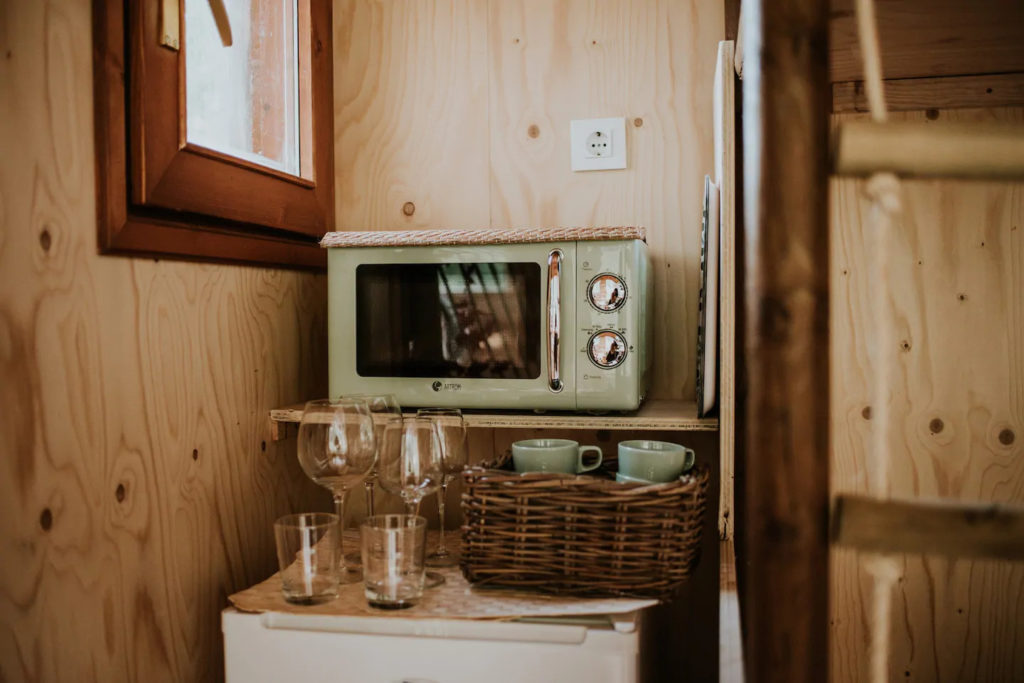 Aim for Superhost status
A study performed by AirDNA shows that "Superhosts perform better across the board in terms of occupancy, revenue, and revenue per available room (RevPAR) as compared to non-Superhosts."
And, since you'll need an average rating of 4.8 stars to become a Superhost, how you manage the guest experience and reviews is crucial to your visibility on Airbnb.
Because of this, many property managers and owners choose to say nothing when a guest wrecks their home because they fear a bad review and a drop in their rating—they'd prefer to pay for the damage themselves rather than risk upsetting a guest.

That's one reason why vacation rental insurance can be such a valuable asset for your business: When your guests are covered, you don't have to worry about confronting them if there's an accident.
Boost your vacation rental marketing to get more bookings and grow your business
Marketing strategies for vacation rentals shouldn't compromise your day-to-day operations. Rather, they should be a key part of your long-term approach to scaling and improving your business, as these tactics can be implemented at little-to-no cost and save you from low occupancy and OTA commissions.
And, as you grow, it becomes increasingly important to ensure all your properties are protected. That's why we always recommend partnering with an experienced short-term rental insurance provider—to make the well-being of your guests the center of your brand image while protecting your properties and business interests.
Protect your business from costly damages with Safely's short-term rental insurance.
Frequently asked questions about vacation rental marketing strategies
Why do vacation rentals need marketing?
Vacation rentals need marketing to attract prospective guests to their listings and convince them to book. Because many guests find properties through searches on online travel agencies, many vacation rental strategies are focused on these booking sites. However, there are other online marketing strategies you can use to attract guests and bookings, like email and social media marketing.
How do I get more bookings for a vacation rental?
One of the best ways to get more bookings for a vacation rental is to have solid marketing strategies. The basics of vacation rental marketing include creating a brand image and ideal guest profile so you know exactly who you want to market your properties to.
How do you market a vacation home?
There are a number of ways to market a vacation home, including:
Through listings on online travel agencies
On your direct booking website
Through email marketing
With SEO tactics
With social media marketing
By careful guest review management, including having vacation rental insurance
Safely's Short-Term Rental Protection
Predictable coverage for unpredicable moments
Get A Quote
Andrew is the co-founder and CEO of Safely, the industry's leading protection for short-term home rentals through its guest screening and liability insurance.
Subscribe to our articles