13 Ways to Boost Vacation Rental Occupancy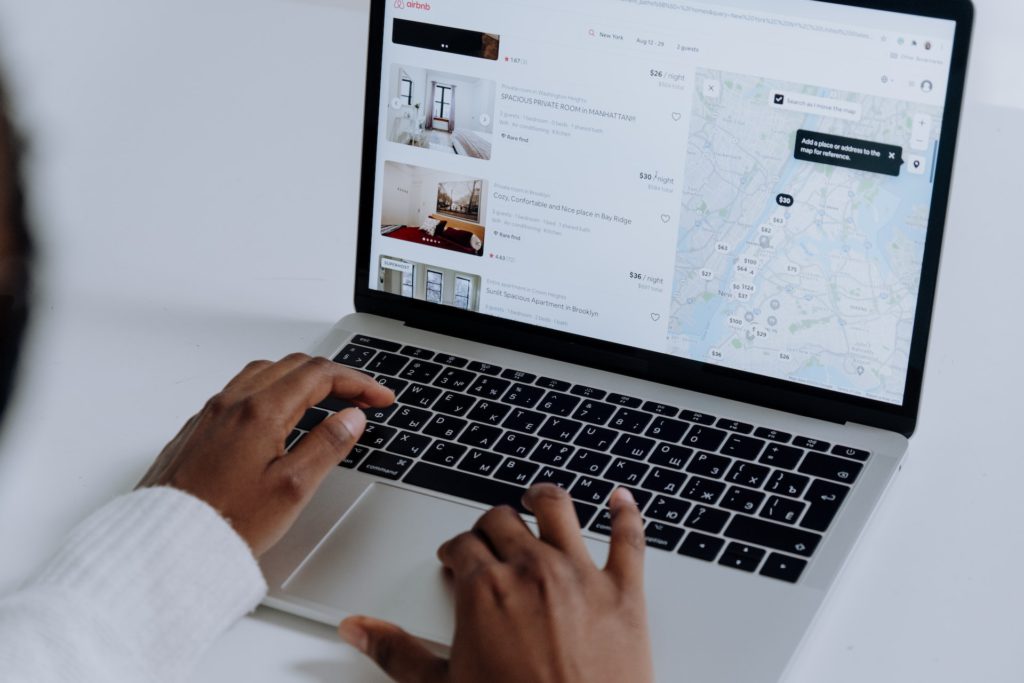 With more than six million listings on Airbnb and 14,000 new hosts joining every month in 2022*, how can you stay ahead and maintain high occupancy? Answer: Stand out from the competition.
But how? In such a crowded market, it's not enough to update your interior, offer a coffee machine, or even get professional photos taken. The days of short-term rentals (STR) getting away with being "a shabbier version of a hotel" are over.
The standards of guests have never been higher, and with so many options available, they want to be sure they're booking the best, most professional property possible. They want to feel cared for and safe, especially if their plans change or an accident happens.
If you want to maintain consistently high occupancy rates, you must make booking and staying as easy and transparent as possible.
In this piece, we explain how to:
Reduce purchase friction
Tailor your services to your specific audience's needs and expectations
Project professionalism by offering clear policies and insurance
Improve guest communication
Market effectively to maximize visibility and conversions
Get more guest reviews with our copy-and-paste review request message
*Stats from Airbnb and analysis by Stratosjets.com.
Protect your business from costly damages with Safely's short-term rental insurance.
Minimize consumer friction
Friction is anything that slows down or obstructs the process of the guest making a booking.
This can be anything from a website not working, to making booking too complicated, or not providing guests with enough information upfront. Minimizing this means making it as easy as possible for guests to book, without any fuss, extra steps, or waiting around.
With so much choice, guests want to book, pay, and confirm quickly and easily. If they find your vacation rental listing or website difficult, they'll quickly move on to one that isn't.
That's why we recommend the following:
1. Answer guest questions in your listings and direct booking site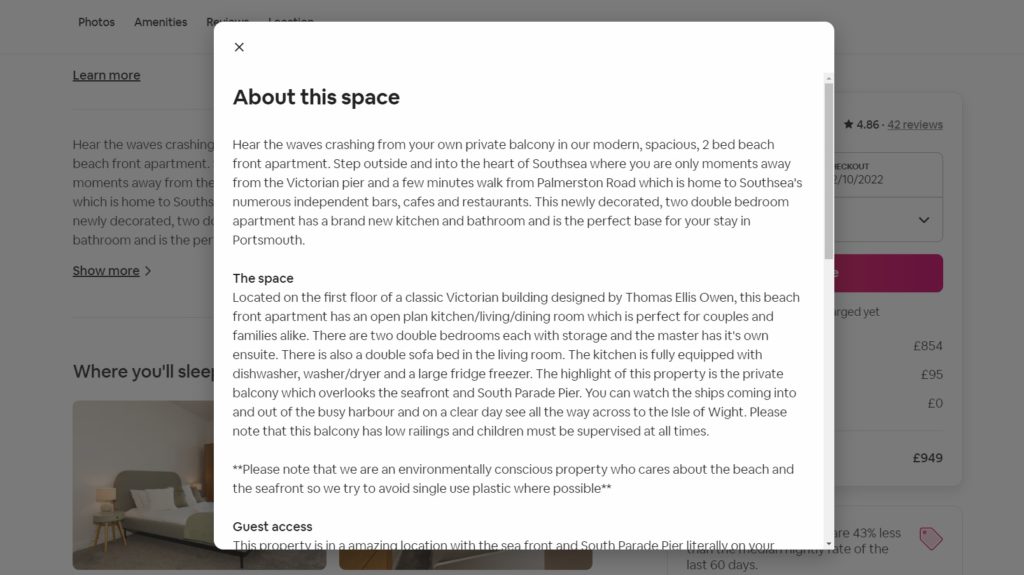 Try to answer as many potential guest questions as possible in your listings or on your website. You can add these details to your listings as you welcome more guests and grow to understand their most frequently asked questions or concerns.
Think about what guests are most likely to want to know and answer those questions either as part of the listing or in a separate FAQs section.
This puts the would-be guest at ease by showing them your expertise, and proves to them that you have everything under control. It will also assuage any lingering doubts they may have about booking with you, and make it clear that you're right for them (or not, meaning that only ideal guests will book).
The more information and details you can give guests about your rental property, the more easily bookings will come in, the fewer repetitive guest questions you have to respond to, and the higher occupancy will rise.
2. Replace security deposits
Anything that makes the guest pause or ask questions before they book adds friction to the buying process, and asking for a security deposit is one such source.
Not only does it ask the guest for more money on top of the nightly rate (at a point where they're probably comparing many different prices), but it also adds another step to confirmation, making booking more difficult and lengthy. Your guest could get frustrated and go elsewhere.
The alternative is to invest in short-term vacation rental insurance and spread the cost by including it in all of your booking rates. Guests won't even realize they're paying slightly more as a result, and even if they did, the peace of mind offered is well worth the cost.
PRO TIP: Use vacation rental insurance so you don't have to ask for extra security deposits!
Vacation rental insurance with a specialist provider like Safely covers every reservation for accidental or intentional damage, injury, or negligence, without requiring damage waivers or extra deposits.
Simply spread your annual policy cost across all of your bookings and get up to $1,000,000 coverage for your properties, contents, and injury (and get paid for any claims within days).
Give guests peace of mind, and make booking as smooth and easy as possible.
3. Respond super fast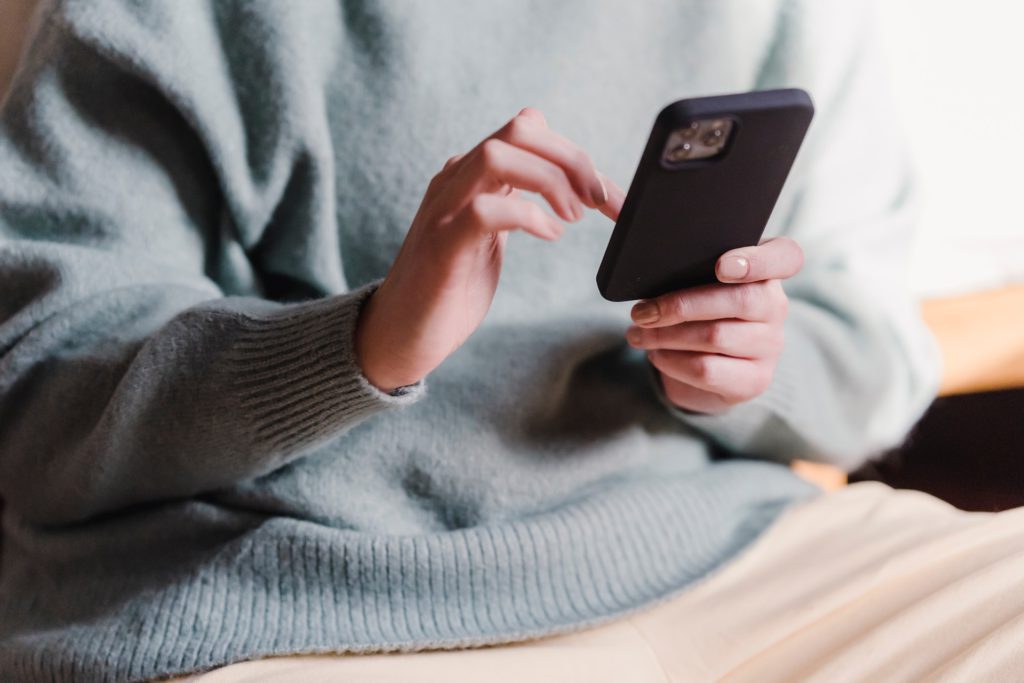 Another way to reduce friction at the booking stage is to ensure super-fast communication, so guests are never waiting too long for answers to any questions or inquiries.
Preparing pre-written messages that you can copy and paste, or setting up automated replies, can massively cut down on your response time. This means you can get back to guests quickly and demonstrate your helpfulness and professionalism.
Automated communication also saves you hours of manually typing messages—in fact, some tools even use AI to detect the content of a guest question, so they can send tailored responses without you having to type anything at all.
Having a unified inbox that can monitor questions coming in 24/7, via all channels, is also a good idea, whether you're a one-person band or a larger management company. The less time a guest has to wait before they book, and the fewer questions they have to ask, the more likely they are to confirm.
Speak to the needs of your market
It's so common as to be cliché, but it's true: If you try to appeal to everyone, you'll appeal to no one. Vacation rentals are no exception. Instead, you can have more success if you niche right down, and ensure that your properties target one specific ideal guest, and truly exceed their very precise expectations.
4. Cater amenities to your target audience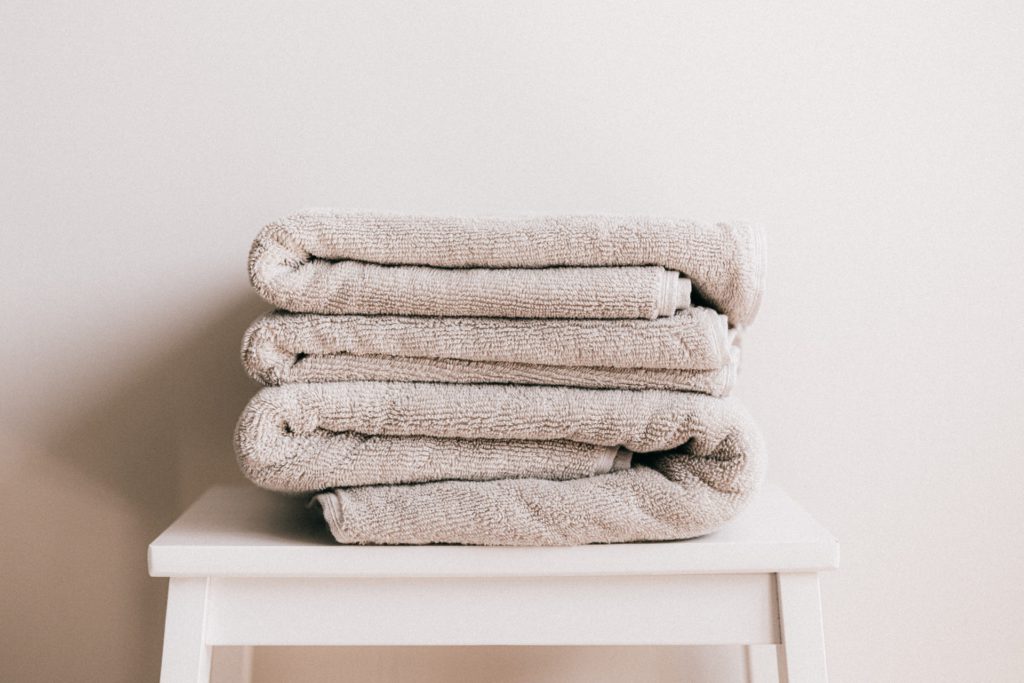 One way to make your short-term rental stand out perfectly to your ideal audience is to provide amenities with their needs in mind. For example:
Digital nomad: Lots of plug outlets, natural light, a dedicated workspace, stable internet, great coffee
Romantic couple: Luxurious bedding, welcome bottle of bubbly, restaurant recommendations
Festival-goer: Space for bags and boots, water bottles, portable snacks, music decor
Sports fans: Themed decor, free or to-hire equipment, full range of popular sports TV channels
Hikers with dogs: Space for drying dirty paws and boots, dog-friendly towels, treats, and bowls
Family beach break: Extra beach towels and bags, beach games and toys, extra sun and aftersun cream
The more obvious these amenities are in your listings (by mentioning them specifically, and by posting photos, such as a screenshot of your WiFi speed test), the more likely your ideal guests will be convinced of your property's suitability.
5. Make sure guest damages are covered
Make your insurance coverage clear. As we mentioned above, guests want to know that they're staying somewhere professional, where they can relax and enjoy their break without worrying about what will happen if they break or damage something accidentally.
Travelers with children and pets will especially want peace of mind that they're not going to be hit with a big bill for an innocent mishap (for example, if a child drops a lamp, spills paint on the carpet, or their dog makes a mess).
Doing everything you can to put your guest's mind at ease and show them they can really relax and enjoy their stay will help you get more bookings over the line.
6. Make access easy
Installing digital access is another way to remove friction from your vacation rental process. Digital access means letting guests enter and exit using a smart lock, either with a keycode or their phone.
This is safer, easier, and more secure, and also boosts bookings, because:
More and more guests now expect contactless arrival and entry and look for it when booking
It removes the need for guests and assistants to wait around for physical key handovers
It eliminates stress in case of travel delays, as smart locks work 24/7
Keycodes can be automatically sent to guests in advance for less work on your side
Security is improved as keycodes can be changed with each new guest
Cleaning and maintenance is easy as extra codes can be granted to housekeeping staff
7. Surprise your guests with extras based on their profiles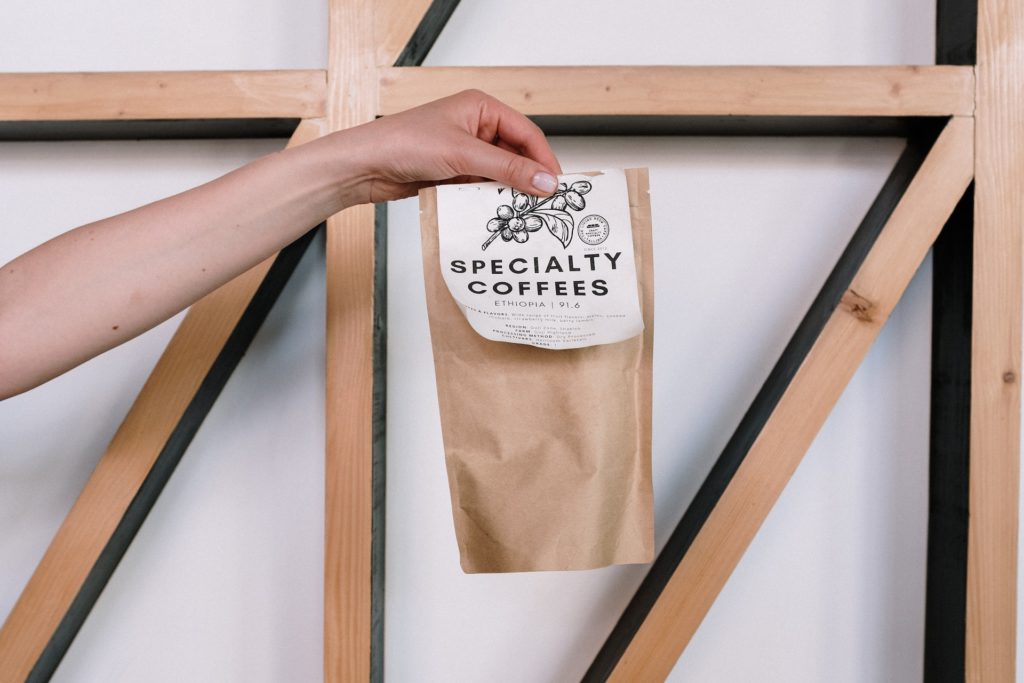 Just as offering tailored amenities will help attract your ideal guests, taking this a step further by offering them welcome treats or little extras will wow them even more.
For example, a digital nomad might enjoy a bag of locally-roasted coffee to take away, a romantic couple would love a welcome bottle of prosecco, a hiker with their dog would notice luxury dog treats, and a plant-based traveler would be grateful for some vegan snacks.
This kind of extra care, combined with the above tips, will win you five-star reviews and get your guests talking about you with friends and family.
Implement effective marketing strategies
Removing friction when booking is crucial once guests see your listings or website, but that's all useless if they don't actually see your listings in the first place.
Here's how to increase visibility and ensure your rentals aren't the internet's best-kept secret.
8. List across every possible online travel agency (OTA)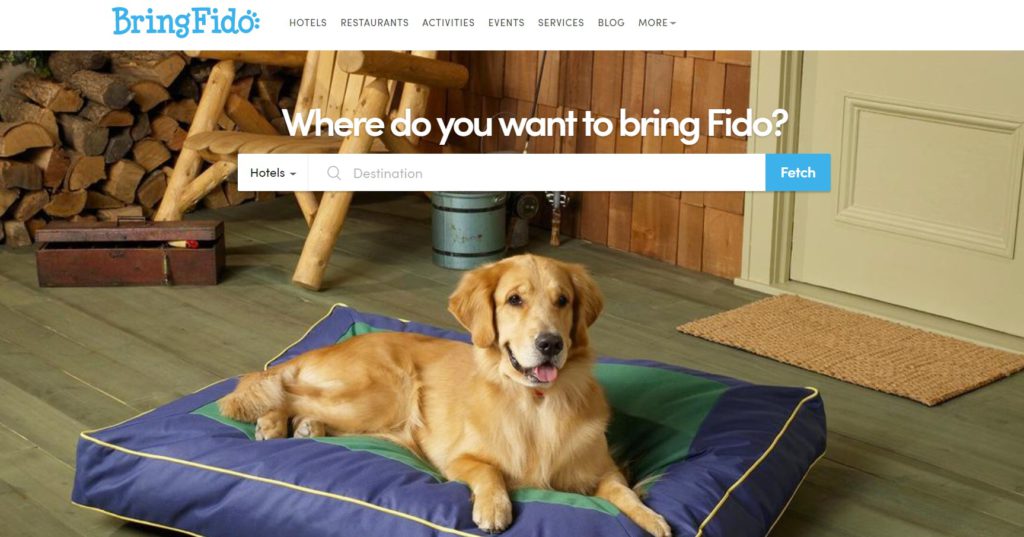 In comparison to direct bookings, OTAs can be expensive, take fees, and have ever-changing algorithms. And yet, many vacation rental businesses couldn't survive without the visibility they offer.
The trick, then, is to make sure that your properties appear across every possible OTA, to maximize visibility and reach.
Not only that, but you can also target more niche listing sites, to appeal even more to your target audience. For example, as well as Booking.com, Airbnb, or Vrbo, you could try:
BringFido.com – A website with dog-friendly accommodation
Glamping.com – Rentals for people looking for outdoor, rustic stays
PinkVacationRentals.com – A website for rentals that welcome LGBTQIA+ guests
KidAndCoe.com – Rentals designed especially for families traveling with kids
9. Use a dynamic pricing tool
One way to boost your rentals' reach is by ensuring they are priced competitively.
Too low, and guests may wonder if there's a catch or if your rental will be up to their standards. Too high, and you'll price out most of the market and cause guests to question your value.
Dynamic pricing tools such as Wheelhouse or PriceLabs are specially designed to tweak your rentals' nightly rates automatically, depending on a huge range of criteria such as demand, season, market trends, or local events.
This helps to boost occupancy as guests are more likely to see your rental in competitive search results, and find a space that is within their budget. Similarly, dynamic pricing tools mean your property stays competitive even when demand changes, so you can fill your rentals even during the off-peak season.
10. Ensure quality photos, full descriptions, clear instructions, and policies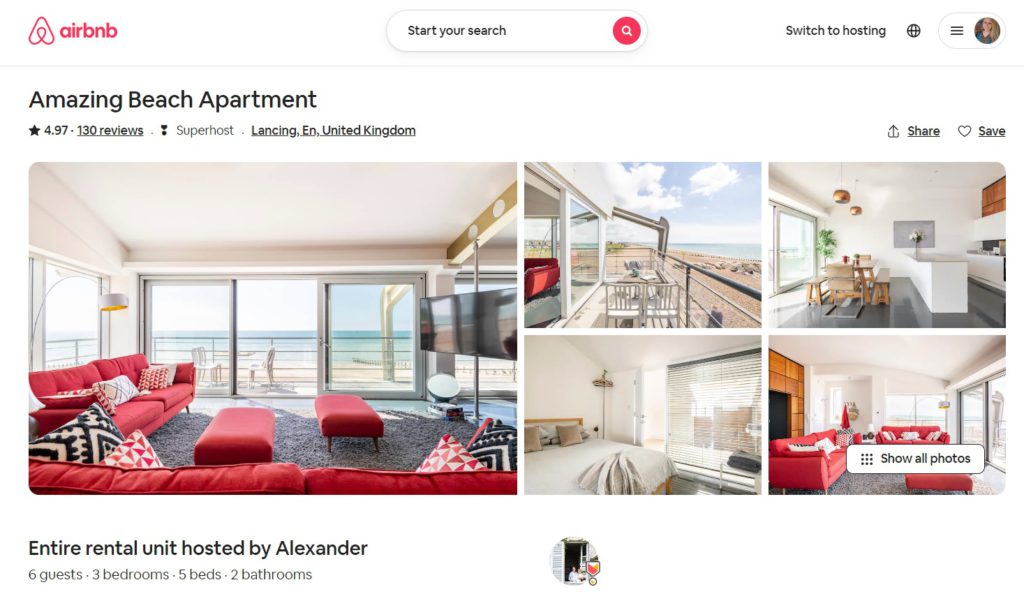 High-quality photos and appealing descriptions are two things that never go out of style when it comes to marketing vacation rentals. And you can make them work even harder for you by:
Writing them in a friendly, brand-appropriate tone, so people see you're a real person (because people buy from people, not faceless businesses)
Highlighting ways that your properties cater to your specific niche (see ideas above!)
Making sure they are super-clear and easy to understand
Showing close-up photos, including of plug outlets, coffee machine, or other key amenities
Providing as many details as possible to help the guest actually see and understand what staying in your rental is like
Stating that you have policies or specialist short-term rental insurance in place will help guests recognize your professionalism even further, and put their mind at ease that staying with you will be stress-free.
11. Use social media for social proof and professionalism
If most of your bookings come from OTAs or your direct booking vacation rental website, it's easy to question if maintaining a social media presence is necessary. After all, it can take a lot of work, and sometimes it feels as though you're fighting a losing battle with the algorithm for people to see your posts.
However, maintaining some kind of updated social media presence—whether on Facebook, Instagram, TikTok—helps to show professionalism, and gives interested guests an insight into your business and behind the scenes.
People may not discover your rentals or book through social media, but you can be sure that they'll check your pages if they're looking for previous guest reviews, want to see more photos, or are trying to figure out if your business is legit enough for them to book.
Updated and engaging content will entice guests. Ideas might include videos or posts on:
Introducing yourself and explaining why you love to run vacation rentals
Showing your process for preparing guest treats
Quick interviews with your suppliers, such as the coffee shop you get your beans from
Top tips for local events or must-see attractions that locals should visit
12. Ask for reviews and display them clearly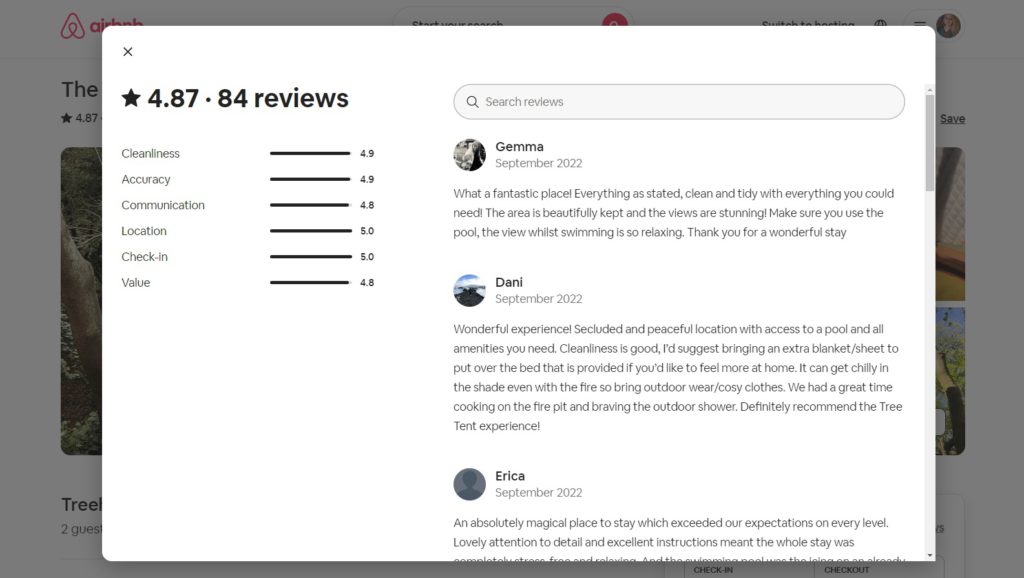 Good reviews are gold for boosting rental occupancy, as they offer yet more proof to would-be guests that they'll have a fantastic vacation if they book with you.
Research shows that businesses with more reviews generate 54% more revenue than companies that don't have many reviews.
What's more, the same study found that companies with more reviews bring in 82% higher annual revenue than businesses with lower-than-average numbers.
Of course, the content of the review also matters.
Unsurprisingly, research shows customers don't trust companies with less than 4-star ratings
Buyers are most likely to convert if a service or product has an average rating of 4.2 to 4.5 out of 5 stars.
Perhaps more surprisingly, buyers are more convinced by services that have mainly great reviews with a sprinkling of less-positive ones. This is because these feel more authentic.
The odd bad review also gives you the chance to respond in a friendly and helpful way and proves that you're not censoring your reviews.
So, reviews are crucial. But it can be difficult to know when to approach guests for reviews, or know how to do it. The best way is to make it just another part of your guest communication, so it feels natural, and to ask for it just before or just after guests check out.
PRO-TIP: Ask for reviews outright and offer reciprocal reviews too
If you don't ask, you don't get—and reviews are no exception.
Good practice is to send guests a message just before their final day, reminding them of your check-out policies and asking for a review. You might also send a follow-up reminder a few days later, while the stay is still fresh in their mind.
(See the pro-tip below for an example of exactly what to write)
13. Engage past guests for repeat bookings
Just as leaving special treats for guests will help them remember your properties and talk about you to others, continuing to surprise previous guests with offers will encourage them to repeat their visit in the future.
Repeat guests are much easier to attract compared to the effort needed to bring in new customers, and keeping them happy helps to build your relationship with them for years (and hopefully, many stays) to come.
Take guests' email addresses when they book with you, and send them regular updates and incentives to come again.
This needn't take hours or be too complicated. You can set up automated messaging schedules so that guests are sent periodic reminders and discounts after their stay consistently, without any extra work from you.
This messaging flow could include:
A thank you for staying
A reminder to review if they haven't already
A coupon for a discount for a future stay
Updates about local events, annual festivals, or reasons to return to the area
Offers timed to coincide with holidays such as Mother's Day, Valentine's, or New Years
Personalized treats for their birthday, next anniversary, or other similar dates
Sending emails at the exact moment that they might be considering their next break means that you can create a repeat customer and keep your calendar full even if new guests are proving elusive.
PRO-TIP: Automate review requests as part of your check-out message and follow-up
Automating review requests means:
You can send them consistently at the exact right moment
You can send them to every guest without having to type a request out manually each time
You can collect more positive reviews and attract more guests as a result
A review request message might read something like:
"Hello [insert guest name], We hope you enjoyed your stay at [insert vacation rental property name].
Thank you so much for staying with us. If you enjoyed your stay, we'd really appreciate it if you could leave us a good review on [platform of choice]. It helps us to get the word out to more guests like you and continue our business! You can leave your review here: [link].
If you have any negative feedback, we'd love the chance to fix it or make amends, so please don't hesitate to reach out to us directly first.
Thanks again, have a great journey home. [Your name here]."
Boost vacation rental occupancy: Easier booking, more guests
Boosting vacation rental home bookings comes down to a few key principles:
Removing obstacles to booking
Mastering fast communication
Ensuring excellent guest experiences
Being clear when it comes to rules and expectations
Marketing to boost visibility and win repeat bookings
And a great way to reduce friction and offer guests extra peace of mind is to make sure your rental properties have insurance that's specially designed for the exact needs of vacation rental hosts and managers.
With an experienced partner in vacation rentals like Safely, you can have STR insurance that grows together with your business. We can connect with your PMS to screen guests for free every time you have a new booking, and you'll never have to pay for coverage when you don't have a reservation.
This kind of safe coverage is just another way to offer guests a great stay and attract more bookings. Because, though the competition may be tough, there's no reason why increasing your vacation rental occupancy rates has to be.
Protect your business from costly damages with Safely's short-term rental insurance.
Frequently asked questions about increasing STR occupancy
How do I make my vacation rental more appealing?
You can make your vacation rental more appealing by making it as easy as possible to book and offer fantastic vacation experiences. This includes:
Answering guest questions quickly
Taking out insurance instead of requiring security deposits
Exceeding guest expectations
Making access easy
Boosting visibility
Projecting professionalism
What do short-term rental renters look for?
Short-term rental renters look for simplicity, ease, and memorable stays. To offer this, hosts should make booking as easy as possible and deliver great vacation experiences. It's also good practice to make sure you have excellent photography, collect and display regular positive reviews, and improve communication so you can be a responsive and helpful host.
What are the best ways to market a vacation rental?
One of the best ways to market a vacation rental is to list across every possible OTA, including specialist platforms tailored to your specific niche, as well as displaying dynamic pricing, good photos, and positive reviews. It's also important to keep all your information and descriptions as up to date and accurate as possible. This will stop you from overselling your property, which can lead to negative reviews from disappointed guests.
Safely's Short-Term Rental Protection
Predictable coverage for unpredicable moments
Get A Quote
Amanda is a licensed insurance agent and the Vice President of Sales at Safely and has been with the company since 2021, leading new client onboarding and client initiatives. She is especially proud of her team's efforts to successfully drive down annual churn to 3% with a trending net revenue retention rate of 130%. Outside of Safely, you may catch a glimpse of Amanda playing a nurse on TV, prepping for her next art show, or on a date with her husband of 16 years.
Subscribe to our articles