The Essential Vacation Rental Inventory Checklist [+ PDF Download]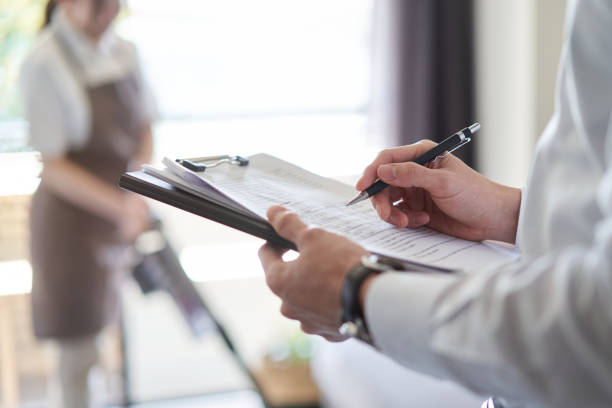 Market standards are changing and so are guest expectations. To stay competitive, you want to make sure that you can provide your guests with smooth services and everything they need. You don't want to be receiving complaints or worse: The dreaded "not as described" comments that deter future guests from booking a stay.
To do this, you need a way of keeping tabs on the contents of your short-term rental so that you can immediately know if something breaks or goes missing. This piece will give you an overview of what to look out for during inspections room-by-room.
We've also created a detailed printable pdf vacation rental inventory checklist for you to download and check off as you go. That way, you can quickly scan properties and make sure that everything is in place before guests arrive.
Protect your business from costly damages with Safely's short-term rental insurance.
Vacation rental inventory must-haves
When you're scaling your vacation rental business, you need all your operations to be as clear, simple, and repeatable as possible. This includes inventory checks, whether they're part of a standard turnover, or something you undertake separately every few weeks.
Here's our checklist to help you make that process easier for you and your team, and which you can also use to see that you're providing guests with everything they might need for a fantastic stay.
Kitchen
The kitchen probably requires the most attention out of any room in your vacation rental when it comes to inventory. Guests need the option to cook and expect to have everything that they'd have in their own home—so they'll immediately notice if you haven't given them at least the basics.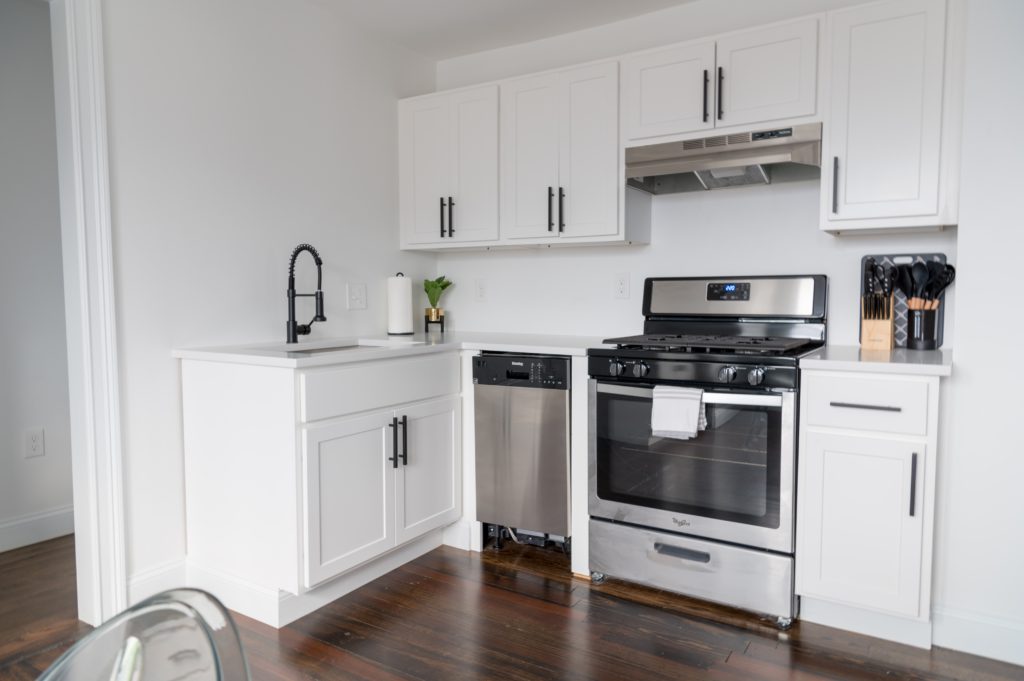 In order to keep your guests happy, you'll want to include these essential appliances:
Refrigerator
Microwave
Coffee maker
Dishwasher
Oven and stove top
Aside from that, include the following for dining and cooking.
Plates (big and small)
Bowls
Glasses (drinking glasses, wine glasses)
Mugs for hot beverages
Flatware and Cutlery
A big serving platter
A big mixing bowl
Utensils for serving food (a ladle, salad tongs, steak knives)
Utensils for cooking (spatula, whisk, stirring spoons)
A skillet
A large pot with a lid
Oven racks and a cookie sheet
Saucepans and lids
Cutting boards
Rolling pin
Ice cream scooper
Pizza cutter
Wine bottle opener
Colander
Clean kitchen towels
Sponges and soap for cleaning dishes
To keep your guests safe, you'll especially need the following:
Fire extinguisher
Hot oven mitts
While going through this list, it's important to make sure that all appliances and cooking devices are in good working order. Broken appliances can be extremely frustrating for guests and can lead to a bad review.
Pantry
No one wants to buy an entire package of salt when they stay in a vacation rental. Be sure to stock your pantry with condiments and seasonings that provide convenience for guests. Here are some of the essentials to include:
Salt
Pepper
Sugar
Flour
Oil for cooking (this is a nice touch)
Vinegar
Ketchup and mustard
Cooking spray
Toothpicks
Paper towels
Coffee filters
Dry, non-dairy creamer
Tea bags
Additionally, it's good to include any other basic spices that come to your mind. They're usually inexpensive and guests will appreciate the thoughtfulness.
Bathrooms
According to research, guests view cleanliness as their top determining factor when deciding where to stay. When thinking about bathroom items, you'll want to highlight good hygienic practices.
Here's a sample of what to include:
Plenty of toilet paper
Hairdryer
Full-sized towels, hand towels, and washcloths
Towel rack
A box of tissues
Hand soap and facial soap
Shampoo and conditioner
Shower gel
Lotion
Shower curtains and liners (if needed)
Plunger and toilet brush
Trash can with extra garbage bags
As a rule of thumb, try to avoid toiletries with strong fragrances, as they may not be appealing to everyone. Additionally, you'll want to make sure that the lotions, shampoos, and hygiene products that you choose are non-allergenic.
Generally speaking, toiletries that are fragrance-free are better for those with allergies and sensitive skin. Although some products may advertise that they're hypoallergenic, it's important to read the ingredients to be sure that there are no added perfumes and colorants.
Living room
Having the right setup in your living room space will help your guests get the most out of their stay. Aside from the list of items that you keep in this space, you'll want to select decor that helps create a mood of tranquility and comfort. Here are some of the things you can include:
Comfortable seating
A coffee table
Board games and a deck of cards
TV
Extra throw pillows and blankets
Also, you might want to include extra bedding or a pull-out couch. This will help accommodate larger groups that might need some extra sleeping space.
Bedrooms
While guests will often check to see what's in the kitchen drawers and cupboards when they first arrive, the first thing they'll look at in your listings are the bedrooms. So it's important to think carefully about bedrooms not just as a place of comfort and relaxation, but also as an opportunity for some great marketing imagery.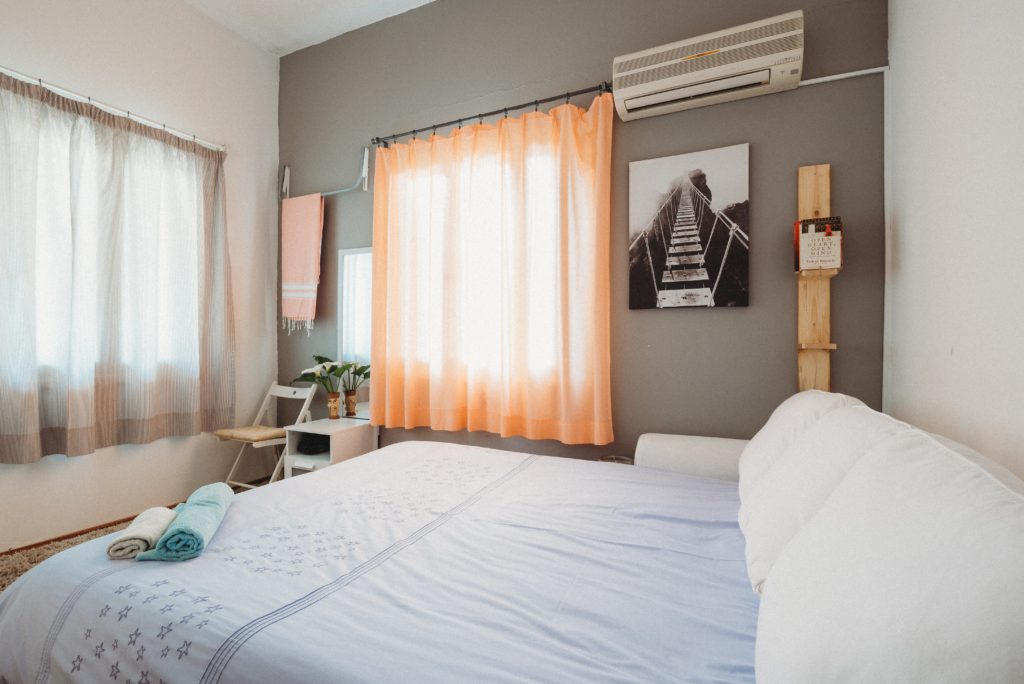 Ideally, bedrooms should include:
Linens with a high thread count
Plumped up pillows
High-quality light blocking curtains
A ceiling fan or air conditioning system
Hangers
Bedside lamps
Night tables
Full-length mirror
It's helpful to include extra sheets, blankets, and pillowcases inside of a set of drawers or wardrobe, and also provide blankets for colder climates.
Dining room
Dining rooms should make the most of the available space and one way to do this is with a foldable table, while remembering that bulky furniture will make that space feel smaller. Here are some of the dining room-specific items to include on your inventory checklist:
A dining table that can easily accommodate all of your guests
Sufficient chairs and seating
Atmospheric lighting
Art or wall decoration
A set of placemats for the table
Also, a nice way to welcome guests and enhance their overall experience is with a complimentary bottle of wine or box of chocolates, which you can include as part of your pre-arrival process by having ready-made gifts that your cleaning team can pick up along with the packed linens for a turnover.
Outdoor area
Depending on the type of vacation rental, you may want to include some basic amenities to complement the outdoor area of the property. This could be a highly sellable feature of your property, so think of how you can set it up for some eye-catching photography. Here are some inventory items to consider:
Foldable chairs
Outdoor lighting, both for safety and decorative reasons
Decorative low-maintenance plants and landscaping
An outdoor grill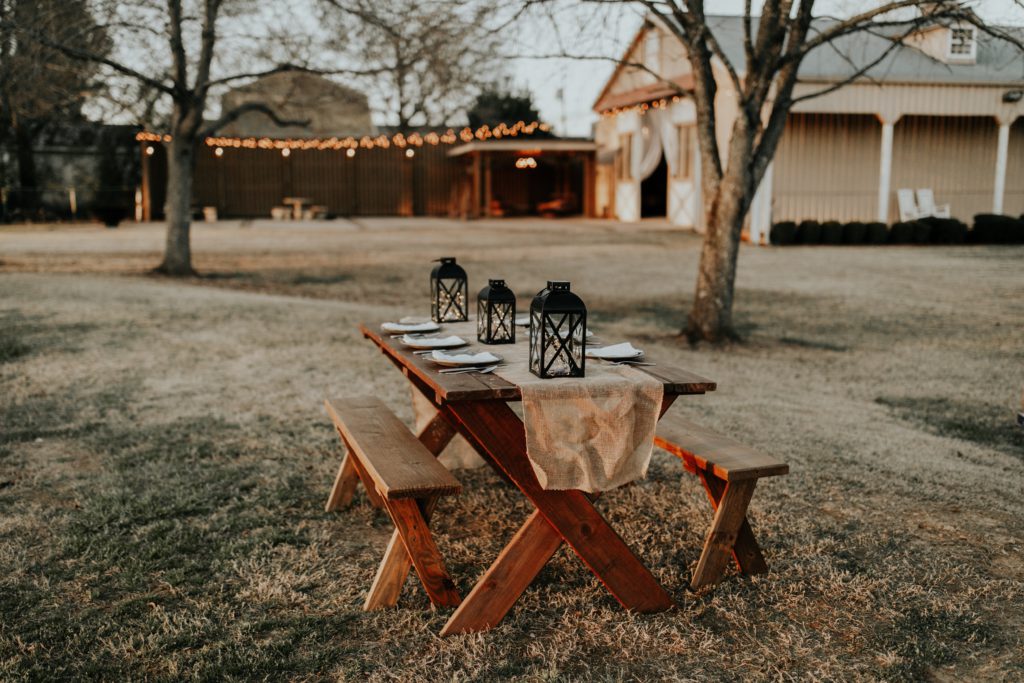 Outdoor amenities are a definite plus, especially if you are managing rentals in coastal areas or with picturesque scenery. In these circumstances, you might want to consider also including water toys, life jackets, and umbrellas among your stored items.
For vacation rentals located in colder or mountainous areas, you could also include bear spray and blankets for guests to wrap up in.
Miscellaneous
While stocking your vacation rental inventory, the goal is to accommodate your guests as best as possible. Depending on your listing, it might be advantageous to include items that cater to pet owners and family needs. Here are some details that will make your guests want to leave five-star reviews after their stay:
To better accommodate your furry guests, be sure to include:
Water and food bowls
Pet bed or giant pillow
Pet toys, sticks, and balls
Treats
To accommodate families with small children, it's best to have the following on hand:
Crib that meets safety standards
High chair
Baby gates
Electrical outlet covers
Locks for windows and cabinets
Here are some additional items that you'll want to include to ensure convenience, cleanliness, and safety of your guests:
First aid kit
Flashlight
Carbon monoxide and gas detectors
Fast, reliable WiFi
Washer and dryer
Laundry detergent and dryer sheets
Trash bags
Cleaning supplies
Broom and dustpan
Vacuum cleaner
Last but not least, it can be a big help to include a guestbook for your guests that details local attractions, restaurants, and information about their reservation. You'll want to leave the book in a place where guests can find it immediately. An even better alternative is to include a digital guidebook for your guests. That way, they can easily access all the information they need about their stay.
Covering repairs and replacements
Finally, it's important to protect your business by making sure the amenities you've invested in are covered with short-term rental insurance.
When deciding on the right short-term rental Insurance, here's what you need:
Coverage for property contents
Coverage for accidents and bodily injury
Coverage for structural property damage
The best short-term rental insurance doesn't just cover you for the big things like a damaged floor or oven, it also makes it easy for you to make claims for items as small as a broken dish or remote control.
Accidents and unexpected events are bound to happen. And when it comes to the security of your vacation rental and all of its amenities, you want to be able to trust that guests, homeowners, and your business are in safe hands.
Protect your business from costly damages with Safely's short-term rental insurance.
FAQs about vacation rental inventories
What should I stock in my vacation rental?
Stock items that cover your guests' basic needs and help them to have a more comfortable stay. Some of the items that you should stock include kitchen utensils, spices and tea bags, comfortable bedding, and toiletries.
How do I make my vacation rental stand out?
To really impress your guests, consider offering them extra amenities, like 24-hour check-in and TV streaming services. Additionally, gifting a welcome basket can really pay off and make your guests' experience much more enjoyable.
Safely's Short-Term Rental Protection
Predictable coverage for unpredicable moments
Get A Quote
Grace is the Chief of Staff at Safely and a licensed insurance agent. She began her journey at the company over a year ago in the Customer Happiness department, where she learned the ins and outs of the customer experience, getting to know Safely's customer base and exploring Safely's value proposition in the market. Grace was asked to step into the Chief of Staff role in 2023 and spends her time working on company-wide initiatives including investor relations, compliance, and expansion. Outside of working hours, you can find her trying new restaurants with her husband, walking her dog along the river, and exploring the city of Atlanta.
Subscribe to our articles