Airbnb Hosts Trying to Charge Guests for Damage: How to Protect Your Property Beyond Airbnb's Damage Policy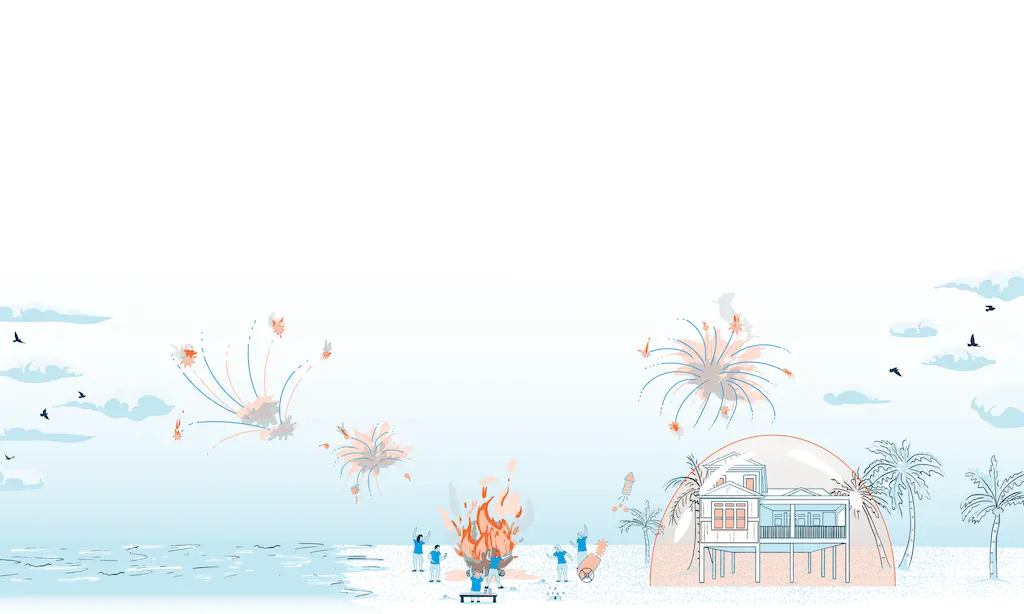 Even if you include your house rules on your Airbnb listing, unruly guests can break furniture, cause structural damage, and destroy the contents of your home. A guest damaging your vacation rental is a horrible scenario that's only made worse if you miss your opportunity to file a claim with Airbnb.
If you don't know how and when to charge your Airbnb guests for the damage they cause, hundreds or thousands of dollars in repairs could end up coming out of your wallet. Plus, pressing guests to pay for damaged items and property can result in bad reviews, which can hurt your business.
You need short-term rental protection that you can trust and won't cause you problems when it comes to making a claim. We're here to tell you everything you need to know about what steps to take to file claims for damage to your Airbnb property.
This article covers:
What happens if a guest damages your Airbnb
The process for dealing with guest damages
What happens if a guest refuses to pay for damages
Alternative ways to protect your Airbnb against damages
Protect your business from costly damages with Safely's short-term rental insurance.
Airbnb Damage Policy: What happens if a guest damages your Airbnb?
Whether you like it or not, many guests won't treat your property like it's their own. This can result in accidental damage, like a broken chair or stain on the carpet, or more serious harm: If your Airbnb guest throws a party, you might be looking at structural damage like a hole in the wall, a door off its hinges, or a crack in your tile floors.
While you may be able to get reimbursed through Airbnb's host damage protection, this method isn't always reliable. You can't file a claim if you miss the deadline, and if a guest declines to pay, you need to get the Airbnb support team involved. And host claims aren't always successful, even if with an Airbnb security deposit.
An alternative way to keep your vacation rental secure is with short-term vacation rental insurance like Safely. With short-term rental insurance, you can have your claims paid in under four days, and you don't have to get guests or Airbnb involved to do so.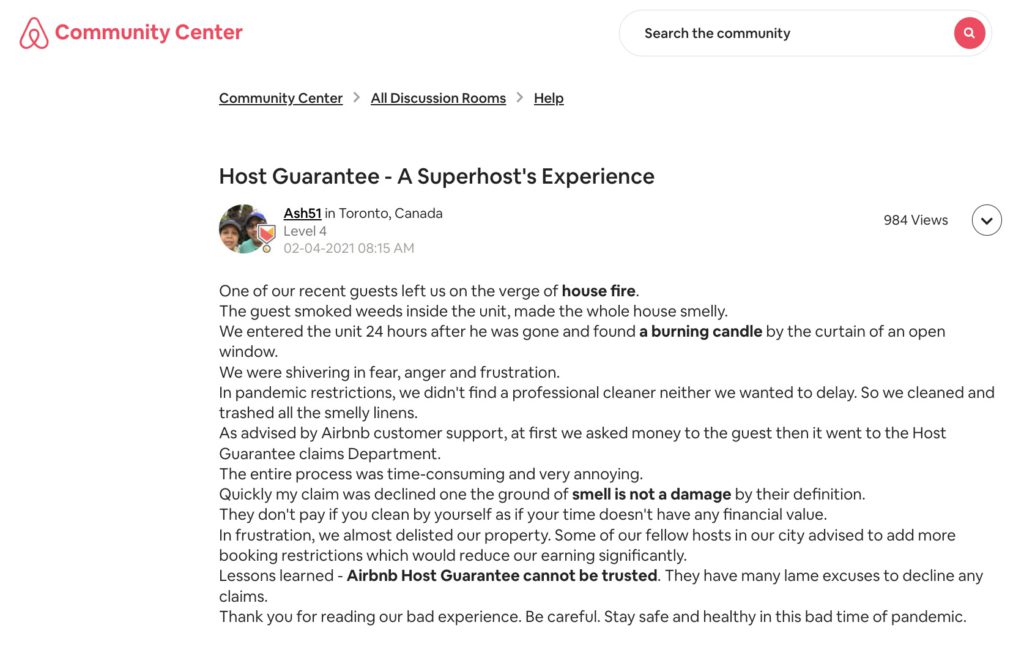 Airbnb hosting: How to deal with damage done by guests
Follow these steps to make your claim through the Airbnb platform if a guest causes damage to your property.
How does an Airbnb host make a claim for a damage deposit on Airbnb?
Once you see a guest has caused damage to your property, there are a number of steps you'll need to complete to get reimbursed by Airbnb.
Gather evidence of the damage. This includes photos, videos, estimates for repairs, receipts, and anything else that can help demonstrate the nature and extent of the damage.
File an AirCover for Hosts request in the resolution center. This must be done within 14 days of when your guest checks out and before your next guest checks in, which limits the time you have to collect the evidence for your claim, and if you have a guest checking in the next day, may even make it impossible.
Wait for your guest's response. Guests have 72 hours to respond to your claim, during which they can agree to the payment or decline to pay.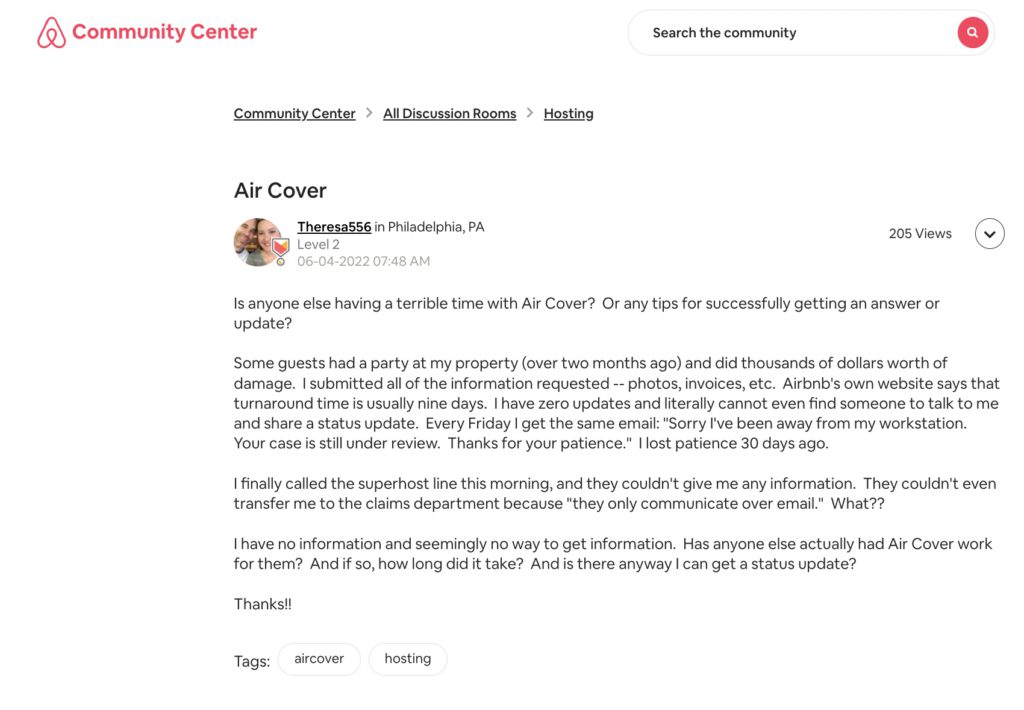 What if you don't have an Airbnb damage deposit?
Some hosts may choose not to include a damage deposit in their reservation. According to Airbnb, "even if there's no security deposit, you're still protected by AirCover for Hosts, which includes Host damage protection."
However, "all AirCover for Hosts requests for damage, missing items, and unexpected cleaning are subject to the Host Damage Protection Terms," and, some Airbnb hosts complain of the platform refusing to reimburse them for things like stains on furniture. While this is not major structural damage, any host knows how expensive it can be to repair furniture, and how time-consuming and stressful it can be to argue over any claim.

What if your Airbnb guest refuses to pay for damages?
If your Airbnb guest refuses to pay for damages, you must send your claim to Airbnb Support, and you must do so within 30 days of the damage being caused. Again, this gives you a small window to communicate with guests, attempt to convince them to claim responsibility, collect your evidence, and put together your claim—all while trying to run your short-term rental business.
If your Airbnb guest refuses to pay for damages, you may face issues like:
Bad guest relationships
Negative reviews
Hours spent communicating with Airbnb
No payout for the damages caused to your property

How else can you get reimbursed for damage caused by Airbnb guests?
As Airbnb says, their AirCover protection is not a substitute for comprehensive insurance.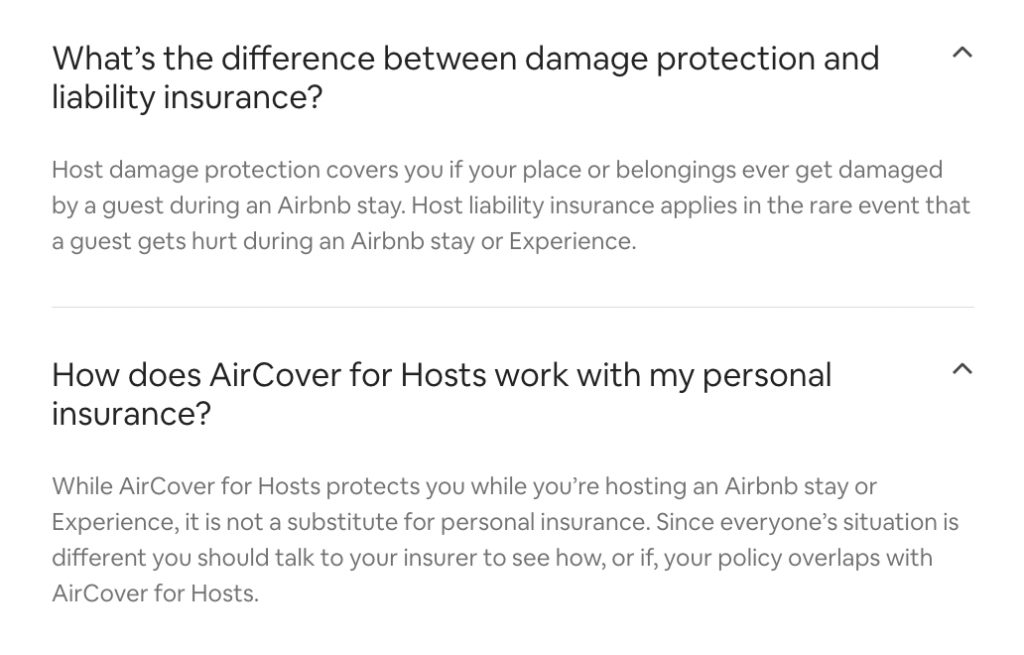 As an Airbnb host, you need to look out for your property and be sure it's safe from the risks of running a short-term rental. Because you can't fully rely on Airbnb to protect you from guest damage, reckless behavior, and lost revenue, take preventative actions to mitigate the risk of bad stays.
3 ways to protect your Airbnb property against damages
Here are some best practices you can follow to make sure your short-term rental is covered:
Buy the best short-term rental insurance. With Safely's short-term rental insurance, you're covered for up to $10,000 for property contents and belongings, up to $1,000,000 for structural damage to your property, and up to $1,000,000 in bodily harm if a guest gets injured at your property. And Safely payments are quick: You'll be reimbursed an average of 3.8 days. With Safely, there are no headaches or hassles, so you can get back to renting your property in no time.
Use a guest verification tool. Safely's guest screening tool helps you prevent bad stays before they happen. The non-invasive, automated system screens for problematic profiles, like convicted criminals, and it flags guests on "The List", our record of guests who have caused damage to vacation rental properties in the past.
Remove valuable items from your property. Where possible, don't leave valuable items, like vases, original paintings, or expensive rugs, in your vacation rental. However, you can't take everything of value away from your guests (they still want to watch television), which is where short-term rental insurance has you covered.
Remember: Short-term rental insurance is essential to keeping your vacation home safe from damage caused by guests. If you're a vacation homeowner or property manager, avoid unexpected repair costs with Safely's short-term rental insurance for Florida, short-term rental insurance for California, or short-term rental insurance for wherever you need it.
Protect your short-term rental from damage
As a host, you create an Airbnb account so you can find potential guests, get positive reviews, and run a successful business—not so you have to worry about property damage and unpaid claims—which is why you need an insurance and guest screening service you can trust.
Safely's short-term rental insurance and automated guest screening make sure your property is protected so you can run a stress-free vacation rental business.
Protect your business from costly damages with Safely's short-term rental insurance.
Frequently asked questions
How much can an Airbnb host charge for damages?
An Airbnb host can require guests to leave a security deposit of between $100 and $5,000. Plus, the Airbnb Host Guarantee can provide hosts with up to $1,000,000 in protection for damages to their property.
If the damages caused by a guest exceed the security deposit, or if there is no security deposit for the listing in question, the Host Guarantee is intended to help cover those costs. But getting reimbursed by Airbnb can be complicated, and there's no guarantee your claim will be successful.
Can an Airbnb host take a guest to court?
Technically, an Airbnb host can take a guest to court. However, this process is costly and doesn't guarantee you any type of reimbursement. If you want to avoid having to sue a guest who causes serious damage to your property, get a short-term rental insurance policy.
Who decides if an Airbnb damage fee is fair?
When you request damage fees from a guest, they can either accept and reimburse you or decline to pay. If a guest declines payment, you must get Airbnb Support involved and they'll decide if the damage claim you have filed is fair.
How do you file a claim for damages on Airbnb?
To file a claim for damages on Airbnb, you need to gather evidence of the damages (images, videos, estimates) and file a claim in the Airbnb Resolution Center within 14 days of the guest's checkout. Guests have 72 hours to complete payment, and if they don't respond or refuse to pay, you have 30 days to get Airbnb Support involved so you can try and get reimbursed.
Does a security deposit make my property less appealing to guests?
While a security deposit may encourage guests to be more careful when staying at your property, it's also less appealing to potential guests when they're deciding where to book their stay. That's why getting short-term rental insurance is a good idea. You know your property is protected and you don't turn off guests at the booking stage.
Safely's Short-Term Rental Protection
Predictable coverage for unpredicable moments
Get A Quote
Amber is the Claims Leader at Safely and has been with the company for over four years. She manages a team of claims adjusters, working with company leadership to improve processes, maintain accurate documentation and educate team members across various departments on best practices. Before joining Safely, Amber worked as a GAP Adjuster Supervisor. Her early career includes serving as a customer service representative and unit manager at Assurant Specialty Properties as well as business operations manager at Farmers Insurance. Amber was born in Dayton, Ohio and earned a Bachelor of Science degree in Finance.
Subscribe to our articles