Airbnb Host Guarantee: What's Included and Excluded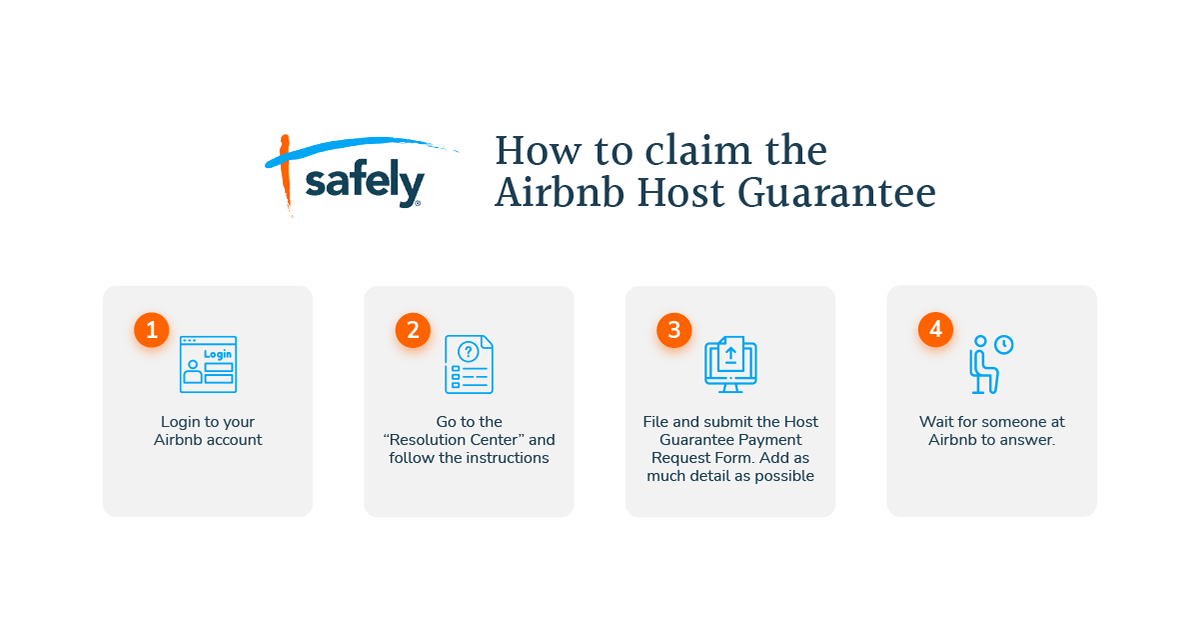 Airbnb offers a Host Damage Protection Guarantee to protect homeowners, but according to many hosts, there's no actual "guarantee" that you'll get your money back or that they'll pay for Airbnb guests' damage.
To put your mind at ease, you need to make sure that you and your home are protected by a comprehensive policy and a responsive team. Continue reading to discover the benefits of Airbnb Host Guarantee, its limitations, and what your alternatives for protection are.
Protect your business from costly damages with Safely's short-term rental insurance.
What does Airbnb Host Damage Protection cover?
Airbnb Host Damage Protection (formerly Host Guarantee) protects hosts from damages caused by Airbnb guests and offers up to USD 1 million in coverage.
However, it can be difficult to understand what Host Damage Protection truly is. As Airbnb explains on their website, "Host Damage Protection is not an insurance policy," but part of their host protection program called AirCover. In fact, they highly recommend homeowners get a separate insurance policy for their stays.
Airbnb Host Guarantee is there to protect hosts once they can prove guests are responsible for the damage.
Airbnb can update its policies without any notice, however, this is what the Damage Protection may cover:
Any direct physical property damage caused by a guest or their invitees during their stay to a property that's:

Owned or legally hosted by you
Listed on the Airbnb site by you
A watercraft or vehicle that's meant for stationary purposes and is not moving

Any direct physical loss, physical damage, or increased cleaning fees/times caused by the guests' assistance animals (pets excluded)
Any extra cleaning costs due to poor guest or invitees behavior
Note that Airbnb will request evidence in the form of "receipts, photographs, videos, documents and other verifiable forms of proof." The process can be exhausting, especially since hosts must communicate with guests first and ask them to accept culpability, which they rarely do.
Then, hosts will need to file the same claim, but this time to Airbnb's AirCover team. If they don't get a resolution, they'll have to follow up continually until they do, which doesn't always mean hosts will get their payout. It may result in Airbnb denying the claim due to lack of evidence, or their customer support being unresponsive.
What doesn't Airbnb Host Guarantee cover?
Since it's not an insurance policy, Airbnb Host Guarantee terms don't include a large number of cases related to physical damage or loss of inventory. It won't cover anything in what they call excluded property, which includes some of the following:
Money, currency, or any precious metal
Water, land, any material in or on land, or mines
Animals (livestock and pets) and anything related to agriculture
Water and land vehicles in movement
Property owned by someone different from the host or /owner
Weapons and surveillance equipment
Also, Airbnb's Host Damage Protection won't cover any of the following cases:
Losses after the booking period expires
Damage of fine art or collectibles in case they can't be retouched or replaced
Damage caused by natural disasters
Disproportionate use of services like gas, power, water or the lack of it
Stipend in case hosts need to interrupt the business or lose market
Inventory losses caused by guests breaking or stealing items
Injuries, care, or any services related to animals
Fraud, identity theft, contraband, or illegal trades
Damage or losses in case of terrorism, war, rebellion, nuclear elements
Use of poisonous chemical or biological implements
House materials being poor quality and deteriorating, and/or ordinary house wear and tear
Loss or theft of information stored on house computers.
You can find the complete list of Host Guarantee Program exclusions in this policy.
To what extent does my home insurer cover me?
Turning that extra room, shed, or guest house into a cozy Airbnb experience can lead to unexpected costs like having guests trash your place, damage physical property, or commit theft. And your homeowner insurance policy or Airbnb hosts protection programs may not cover the attained costs.
Your homeowner insurance company will cover you in case of fire, floods, or other disasters. However, if you're renting your property as an Airbnb to generate income, then your insurer will see that as a business, and you'll need to look into other options, like short-term rental insurance.
What does the Airbnb Host Protection Insurance Program cost?
Hosts don't need to pay for Airbnb's Host Damage Protection, it's automatically added to every listing as part of Airbnb's AirCover protection. If Airbnb determines that the claim is valid, the Host Guarantee may cover up to USD 1 million in damages.
How to claim the Airbnb Host Guarantee
Hosts are responsible for reporting issues and requesting Airbnb for coverage in a short window. You can make the claim either up to 14 days after the guest's checked out or before the next guest checks in.
First, though, you need to ask the guest to pay for the damages they caused. The massive problem for you here is that this can lead to highly confrontational situations with your guest—exactly during the period they have for submitting reviews.
Inevitably, this results in time-consuming and stressful discussions, and bad reviews—which can cause you to lose your Super Host status and, consequently, bookings.
If guests are unable or refuse to pay, you'll need to make a claim following this process:
Login into the Airbnb platform.
Open the "Resolution Center" and follow the instructions to request reimbursement.
File and submit the Host Guarantee Payment Request Form. Don't forget to add all the evidence you gathered regarding the damages. Airbnb will need you to add as much proof as you can—you can include videos, photos, and receipts. Describe exactly what happened, you can also add a police report in case anything was stolen. The more detail you add, the better.
Someone from Airbnb will reach out to you directly after you submit the claim.
Note that Airbnb Host Damage Protection coverage may or may not cover the damages.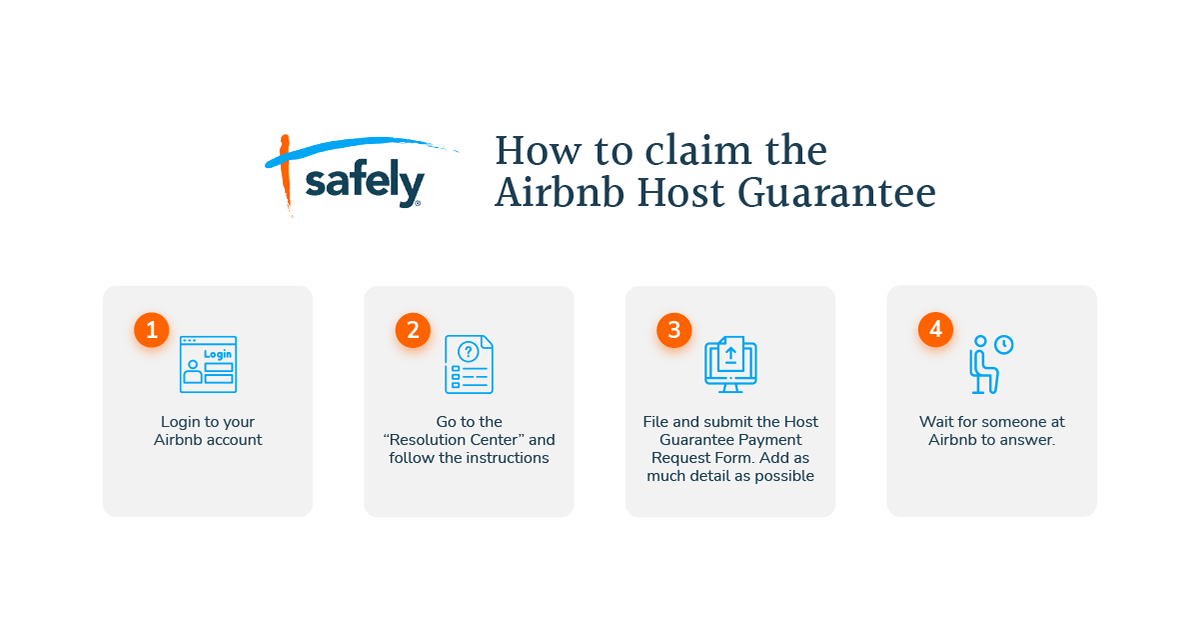 What to do when the Airbnb Host Guarantee doesn't protect you
It's possible Airbnb Host Guarantee won't cover all your claims because:
The window to make a claim is too short. Airbnb either gives you 14 days or the period of time before you have a new guest. Sometimes you can have one guest after the other, and that leaves you with almost no time to gather all the evidence and make the claim.
Airbnb asks you to have physical proof of the damaged item and how it happened. Gathering this information can be arduous since you probably won't have some of the required evidence like receipts, or before-and-after pictures to hand.
The coverage list is limited. Your case might not even qualify for reimbursement.
So, you should be looking at other options in case you want to protect yourself and your property. In this case, the best thing to do is to get short-term rental insurance that always has your back.
With Safely, you can get covered for up to 1,000,000 USD for only $8 per day. Your guests can pay for that insurance without you spending a dime, and most claims are paid back within 3 days.
How is Safely different from Airbnb Host Guarantee?
Safely is a comprehensive insurance company specifically created for short-term rentals. But at Safely we go one step further. We screen every guest that wants to book your stay, because the best way to reduce the number of claims or property damage is to know exactly who's entering through your door.
Airbnb, on the other hand, will first ask you to charge the responsible guest for the damages. If they refuse, renters can start a claim that may lead nowhere. But if guests do pay, it often leads to them leaving a bad review, so it seems that either way the host loses.
With Safely, though, you can feel at ease knowing we'll treat your claim seriously, and guests won't have reason to leave a negative review.
Here are some differences between Airbnb Host Guarantee Program and Safely:
Safely

Airbnb Host Guarantee

It's a short-term vacation rental insurance

It's a guarantee, not insurance

Does extensive research/screening to flag guests

Airbnb does some guest screening, but it's not enough. They may or may not ask for a government ID.

Submit claims in 5 minutes and get paid within 3 days. Only requests pictures of the damage and a police report

Submitting claims can be exhausting due to all the evidence Airbnb requests. Also, they don't disclose how many hours you have to get your money back

Covers theft and property damage (up to $10,000)

Covers damage to the home structure caused by guests and bodily harm (up to $1,000,000)

Does not cover structural damage or theft of valuable items (art, collectibles, personal info)
How to make a claim with Safely?
Safely makes it easy for you to make claims. All you need to do is follow these steps:
Report the issue to the police
Take pictures of the damage
Submit those pictures through the Safely app
Get your money back in 3 days.
Protect your business from costly damages with Safely's short-term rental insurance.
Frequently asked questions…
What is the Airbnb Host Guarantee?
The Airbnb Host Guarantee is protection that Airbnb offers all their hosts but shouldn't be used as an insurance policy. Airbnb may offer up to USD 1 million coverage in case guests damage their stay.
So, if you want to protect your home, you should get a short-term vacation rental insurance policy.
How good is Airbnb Host Guarantee?
Airbnb Host Guarantee is not as reliable as short-term rental insurance because it's not an insurance policy. They won't cover your expenses if a guest causes structural damage, if an animal or a person gets hurt during their stay, or for anything related to fraud or identity theft.
How are hosts protected on Airbnb?
Airbnb offers different types of host protection: Host Damage Protection, Host Guarantee Program, Host Liability Program, and the possibility of asking guests for a security deposit that can range from $100-$5,000.
Does Airbnb Host Guarantee cover theft?
The Airbnb Host Guarantee may cover theft if you have physical evidence that proves the guest did it. So if you have a necklace stolen, but don't have pictures or any evidence that the guest was involved, they might not pay you back.
What happens if a guest refuses to pay the claimed damage on Airbnb?
When using Airbnb, hosts should always contact guests first in case of property damage. If they are unable or refuse to pay, you should make a claim to apply for the Airbnb Host Guarantee. At that time, Airbnb will determine whether or not they will pay you back.
How long does Airbnb take to process a claim?
Airbnb doesn't disclose how long it takes them to process a claim, some websites say it could take up to 72 hours, but some hosts online complain about the Airbnb customer support team never reaching out or resolving their case.
What's the best alternative to Airbnb Host Guarantee?
Getting short-term rental insurance is the best alternative to Airbnb Host Guarantee. For example, with Safely you can add the cost of the insurance to the guest booking, have a 24/7 customer support team to answer your questions, and have your claim resolved in 3 days. Safely covers up to 1 million dollars in damages and most things that your homeowner's insurance policy or the Host Guarantee won't.
Safely's Short-Term Rental Protection
Predictable coverage for unpredicable moments
Get A Quote
Andrew is the co-founder and CEO of Safely, the industry's leading protection for short-term home rentals through its guest screening and liability insurance.
Subscribe to our articles