Will Your Insurance Cover a Slip and Fall Incident in Your Airbnb?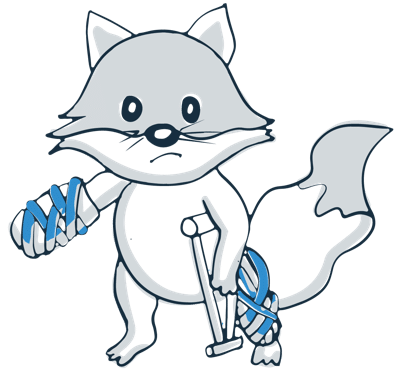 Oh, no! Someone slipped, fell, and got injured at your Airbnb. What to do now? It's certainly a stressful situation and you're probably wondering what that means to you as an Airbnb host. In fact, you might be asking yourself these questions:
Who's liable for Airbnb slips and falls?
Will you need to pay for their medical bills?
Does your homeowner's insurance cover it?
Will Airbnb ever get back to you?
When's a good time to look for a lawyer?
Accidents can happen when you least expect them, and this article is here to help you. With our insights and recommendations, you'll be able to file substantiated claims for Airbnb Host Liability Insurance and get protection so you can tackle similar scenarios in the future without any hassle.
Protect your business from costly damages with Safely's short-term rental insurance.
What happens if someone gets hurt in your Airbnb?
If a guest gets hurt in your Airbnb and is filing a claim, you should take it seriously. As a short-term renter, you might be liable for any Airbnb slip and fall accidents and other sorts of bodily injuries.
While the accident may not have been your fault, if your guest gets a specialist Airbnb accident attorney, you might soon be facing a lawsuit. In the case you're found responsible for an incident, you might need to compensate the guest. Some examples of property damage caused by host negligence can be:
A leaking pipe that caused the floor to be slippery
A missing or loose step
A broken title on your pool floor
Bed bugs
Furniture having loose screws
In any of these cases, if your guest has an Airbnb accident, you should follow these steps.
1. Collect evidence
Once your guest notifies you they've had an accident, make sure you or your cleaner visit the property to check on the guest's wellbeing and take pictures of where the accident occurred. For example, if your guest says that they fell down your porch stairs, make sure you go and take pictures that show the condition of the stairs.
Tip: Make sure you keep updated pictures of your property. Having pictures to hand helps you build your case if a guest makes a false claim.
2. Get in touch with your homeowner or vacation rental insurance
If you have vacation rental insurance with a reputable company like Safely, the process is pretty straightforward. If your guest is making a legitimate claim, then your insurance will have your back. If you're using Safely, here's what you need to do to get reimbursed in less than 4 days:
Gather evidence (pictures and medical receipts)
Submit your claim through the client portal
Get reimbursed
If you're not covered by a vacation rental damage insurance company, but have homeowner coverage, check if they'll cover the incident. Note that most home insurers won't cover any injuries or property damage caused by a commercial activity like renting your property on Airbnb. If your homeowner's insurance policy doesn't cover this, make a claim for Airbnb Host Liability Insurance.
How to use the Airbnb Host Liability Insurance
This program is part of AirCover and protects Airbnb hosts for up to $1 million in the case of:
Bodily injuries caused by accidents (covering guests, co-hosts, and cleaners)
Theft of or damage to belongings
Property damage caused by guests
See the five Airbnb Host Liability Insurance steps below.
Step 1. Make an Airbnb slip and fall claim through the Airbnb website
To file an accident claim, you need to fill out this liability insurance intake form. Your guest will most likely file the same form. Make sure to include all the messages, medical bills, and pictures you took from the location. They'll automatically send the form to their third-party insurer.
Step 2. Airbnb will reach out to you
After the claim, Airbnb or an adjuster from the insurer will get in touch with you. They'll investigate the case for legitimacy, so make sure you have all the possible evidence. If your property has a hazard and you're responsible for their injury, you need to make your claim as strong as possible to get it approved. If not, you also want to be able to prove that you're telling the truth.
The timeline for this process is not clear. Airbnb says it can take from five to seven days to get an answer, but hosts often say it takes longer.
Step 3. Your claim is approved or denied
Eventually, Airbnb will deny or approve the claim. If they approve it, you'll get reimbursed. You might get reimbursed in full or partially according to their judgment. If your claim is denied, you should hire a lawyer as your guest might sue you for bodily injury.
Step 4. If your claim is denied, get a personal liability lawyer
*Please note that this is not formal legal advice*
Legal disputes can be very time-consuming and expensive, so, if you do get to this point, the best thing you can do is hire an attorney that's familiar with personal liability law and can protect you in case your guest sues. They'll advise you on how to proceed in case this issue is taken to court.
Step 5. Prepare for a lawsuit
There are many law firms and personal injury attorneys ready to support your guests. In fact, most accident lawyers offer free consultations ready to win that trial. They may file a premises liability lawsuit and report fall injuries. They may also sue Airbnb in the process. If your guest sues, you'll already have an attorney to cover for you. The rest is up to the legal process.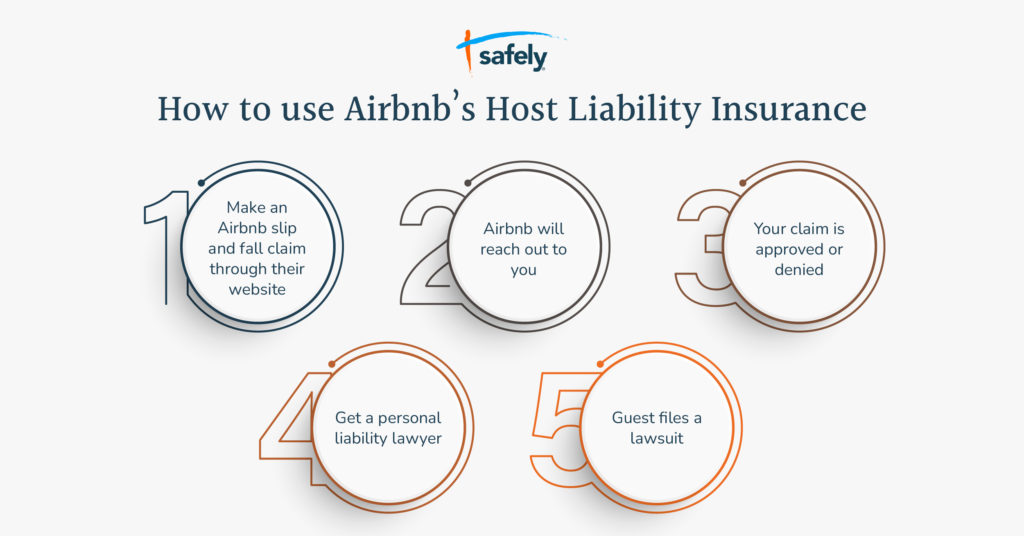 Different kinds of insurance
Going through an episode like this one can be stressful, but that doesn't mean you have to go through it again. Make sure you protect yourself from future accidents, become familiar with premises liability law, and understand the different coverage options.
Airbnb Host Liability Insurance
Airbnb covers hosts with AirCover, a protection program that's included on every booking. AirCover has two different programs:
Airbnb Host Guarantee. This is a $1 million dollar protection in case guests damage your property or belongings.
Host liability insurance. It was formerly called Host Protection Insurance. It's a $1 million dollar insurance Airbnb offers guests in case of bodily injury accidents, property damage, or theft.
However, hosts aren't always satisfied with AirCover because
Claims aren't always resolved
Airbnb doesn't always reimburse the host
Some hosts feel Airbnb cover has too many exceptions
Airbnb sometimes expects unretrievable evidence
One Airbnb host shared her experience with Airbnb's AirCover. She made a claim, got an email explaining that she was going to be contacted within 24 hours. That didn't happen. After four days, she got an email stating that her agent was on scheduled rest days. Once the four days passed, she got the same email again.
"I am just trying to get answers and charge the guest the security deposit that is clearly disclosed in the reservation, but I can't even get that, let alone an actual claim filed and processed. I think the Air Cover is a gimmick and not something that hosts can actually access," Teona9 said.
Hosting can be a great way for hosts to monetize their second home. But to protect yourself from the small percentage of bad guests, you need a third-party solution whose business model isn't based on protecting the guest first.
Homeowner insurance
Your homeowner's insurance might protect your home in case of:
Damage to the exterior or interior of your house
Damage caused by accidents or natural disasters
Vandalism
Burglary
Furniture
Any other damaged objects in case of a disaster
Tip: Your homeowner's insurance might not cover commercial activity—and that includes using it as an Airbnb.
Vacation rental insurance
Getting short-term rental insurance is the best way to protect your guests, property, belongings, and personal liability. Vacation rental insurance is a dedicated policy for your STR. For example, Safely will:
Reduce your chances of hosting bad guests—we integrate with your PMS to insure every reservation, screen every guest, and flag any problems
Reimburse you for valid claims of up to $1 million
Protect the owner, property manager, guests, belongings, and short-term rental property
Resolve claims in less than 4 business days
Improve your reviews by protecting you from bad guests
Let's recap what you need to know about Airbnb accidents and why you need STR insurance
So your guest had an accident at your Airbnb. They went to the doctor and are expecting you to pay for their medical bill or compensate them for their lost vacation or loss of earnings. These are the steps you should follow:
Fill out Airbnb's liability intake form
Wait for Airbnb to answer, but keep moving on your own because you may not get a quick response
Consider getting a lawyer to protect yourself
Prepare for your guest to file a premises liability lawsuit against you
Get vacation rental insurance to avoid going through a similar situation again
If you're at step 5, Safely is your best option. Safely provides STR insurance created for hosts like you—so you can get the best coverage and none of the hassle. Plus, you can add the cost of your insurance to your daily rate.
Safely integrates with your PMS to make sure you're only insured when you need it, and to screen every guest—so you can confidently welcome internet strangers into your home.
Protect your business from costly damages with Safely's short-term rental insurance.
Frequently asked questions about Airbnb guest accidents
Are Airbnb hosts liable for injuries?
Yes, Airbnb hosts can be liable for injuries. Guests will need to prove that the Airbnb accident happened due to property damage caused by the host's negligence (i.e., stairs missing a step).
How are Airbnb guests protected?
Airbnb guests can be protected in different ways:
By having personal travel insurance
By Airbnb's Host Liability Protection program
By Airbnb's Host Guarantee
By the host using Safely's short-term rental insurance
What are some examples of accidents in an Airbnb?
Guests can have a range of accidents in an Airbnb property. Some of the most common Airbnb accidents are:
Car accidents (not covered by Airbnb Host Liability Insurance)
Falling due to potholes
Slipping down the stairs due to loose handrails
Stepping on protruding objects like nails
Slipping and falling in the shower
Safely's Short-Term Rental Protection
Predictable coverage for unpredicable moments
Get A Quote
Andrew is the co-founder and CEO of Safely, the industry's leading protection for short-term home rentals through its guest screening and liability insurance.
Subscribe to our articles