Crazy Vacation Rental Insurance Claims: Every Dog Has Its Claim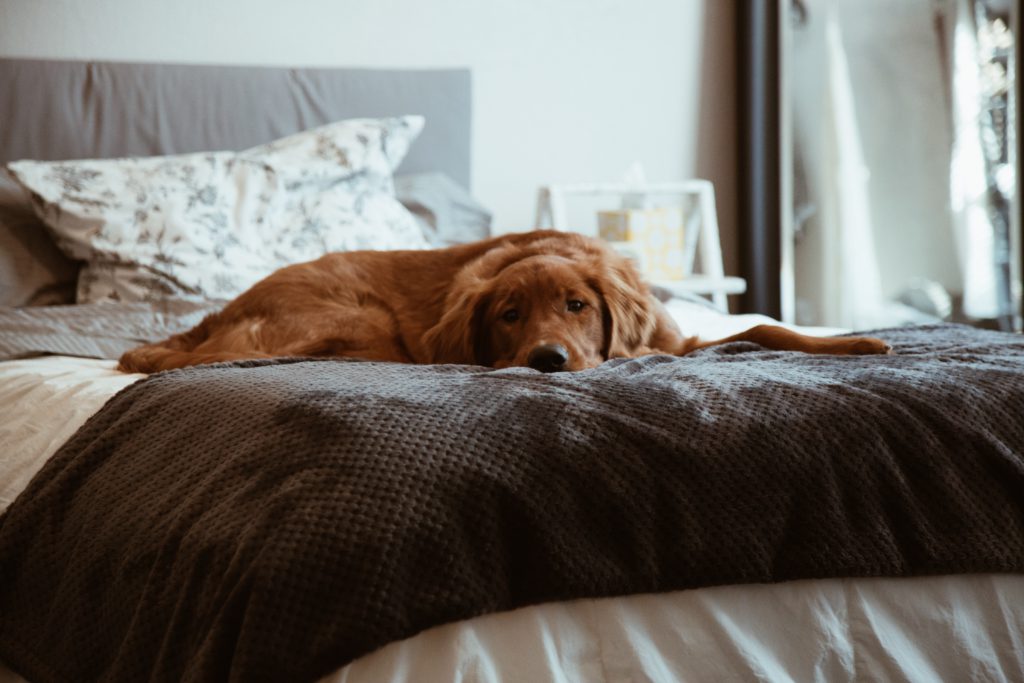 Manic Monday – No walk in the bark
If you read our latest blog post on service and support animals, then you know how important it is for people to be able to travel with their pets. In fact, "pet-friendly" has become one of the most popular requirements among guests seeking short-term rental properties–and it makes sense. People think of their pets as an extension of their family, so being able to bring them on vacation is a major selling point when deciding where to stay.
On the other hand, there is a reason that not every property manager or homeowner is jumping at the opportunity to allow guests to bring their pets. I mean, we've spent this entire series talking about how people act differently when they are staying in a home that isn't their own, so it's hard to think that a pet would be any different.
That brings me to this week's claim…and be-leash me when I say…it's a ruff one.
Howl did this happen?
This claim came through for $1,334.98 and it just said "Their dog escaped from the crate and destroyed the stairway carpeting. We do not take damage deposits for our pet friendly units."
It's important to note that the host mentions that they don't take damage deposits for pet friendly units, and this is because if a damage deposit is collected, we deduct that amount from the total claim. So if the host had taken any sort of deposit for pet damage, we would simply pay the claim out minus the deposit amount collected from the guests. But for this incident, we would be paying out the entire $1,334 – and that's exactly what we did.
Unfortunately, I can't show you the pictures for privacy reasons so you'll just have to take my word for it, but I shih-tzu not, these stairs were destroyed. The carpet was completely shredded and had been ripped off almost every step, and the wood had been exposed and chewed in multiple places. In other words, these stairs looked paw-ful.
The best paw-sible coverage
For this specific case, the home was pet friendly, no deposit had been taken previously, and the damage was clearly done by the guest's dog, which made it easy for us to approve this claim–and we paid it out in less than a week. But without adequate coverage, this is not always the case. In fact, when it comes to pet damage, not all insurance is created equal, and it's important to have coverage that protects your property whether the home is pet-friendly or not.
Pup and running in no time
At the end of the day, pets or not, having people stay at your rental property brings some level of risk. I mean, I don't think anyone ever rents their property out assuming a chicken will be sacrificed or a few shirts will be stuffed down the drain. The point is, we already know people (and their pets) are unpredictable, so really, these claim stories show us how important it is to protect your property with the right coverage.
With Safely, it doesn't matter how mutts the story sounds, whether the guest caused the damage, or their pet did, your property is protected.
Safely's short-term rental insurance is the protection you need, backed by professionals who care.
Safely's Short-Term Rental Protection
Predictable coverage for unpredicable moments
Get A Quote
Amber is the Claims Leader at Safely and has been with the company for over four years. She manages a team of claims adjusters, working with company leadership to improve processes, maintain accurate documentation and educate team members across various departments on best practices. Before joining Safely, Amber worked as a GAP Adjuster Supervisor. Her early career includes serving as a customer service representative and unit manager at Assurant Specialty Properties as well as business operations manager at Farmers Insurance. Amber was born in Dayton, Ohio and earned a Bachelor of Science degree in Finance.
Subscribe to our articles