Airbnb Payouts: Everything You Need to Know About Getting Paid on Airbnb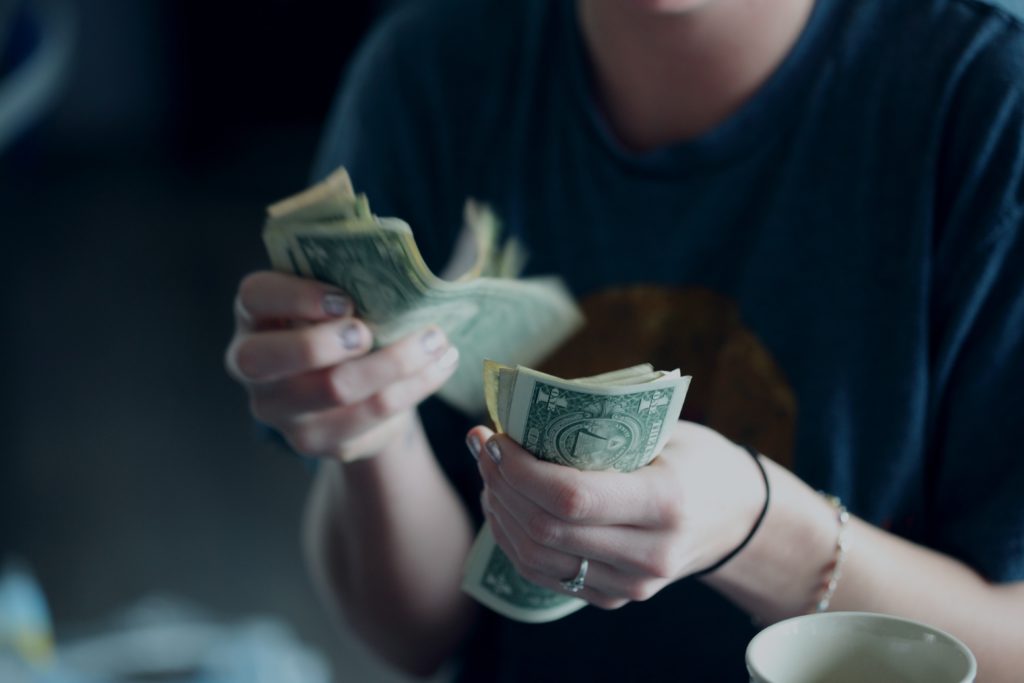 If you're considering becoming an Airbnb host, congratulations! You're about to embark on an exciting, financially rewarding journey. But starting out on a new platform like Airbnb can be daunting, especially when it comes to understanding how payouts work. In this article, we look at everything you need to know about Airbnb payouts, from setting up your payment methods to receiving your earnings.
How do Airbnb Host Payouts Work?
As the world's best-known online marketplace for listing and booking vacation rentals, boasting an impressive six million listings in 20221, Airbnb is the global go-to platform for renting out a space or finding a place to stay. And with good reason! With a focus on ease of payment, Airbnb has designed a 5-step approach that makes it as easy and secure as possible for both hosts and guests.
Let's take a closer look at how the system works:
Step 1: Host Selects Payout Method
As a new host, you first need to set up a payout method for your account. You'll select your payout currency, which is based on your country, and then select a method for payment. Once you've added a payout method, you won't be able to change its currency. However, you can always set up a new payout method in a different currency as needed. This process may take some time, so it's best to get started as soon as possible.
Types of Airbnb Payout Methods
Airbnb provides hosts with six different options for receiving payments. You can choose to use one or multiple methods and even split your payouts among them using routing rules. Here's an overview of each method:
Fast Pay: If available in your country or region, this method lets you receive payouts to an eligible Visa or Mastercard debit or reloadable prepaid card issued in the US.
Bank account: To use this method, simply enter your bank routing number and account number. You'll need to wait for a small deposit to verify that your account is ready. "For Further Credit" accounts (FFC) are not eligible for direct deposit.
PayPal: Before adding PayPal as a payout method, make sure your account is activated.
Payoneer PrePaid Debit Mastercard: To use this method, enter your name as it appears on your official ID. Payoneer will need to approve your details before you can start receiving payouts.
International wire: Depending on your location, you may need to enter your account number or IBAN. These details can be obtained from your bank. Fees may apply.
Western Union: To use this method, enter your name as it appears on your official ID. Fees apply.
How to Add a Payout Method on Airbnb
To set up a payout method on Airbnb, follow these steps:
First, go to your Account and select "Payments & Payouts" from the menu, then click on "Payouts."
If you haven't set up a payout method before, click "set up payouts." If you already have an existing payout method, you can add a new one by clicking "Add payout method."
Select your billing country or region to view the available payout methods.
Choose the payout method you want to use and click "Continue."
Enter the required information and click "Next."
If you have set up multiple payout methods, you can choose a default option.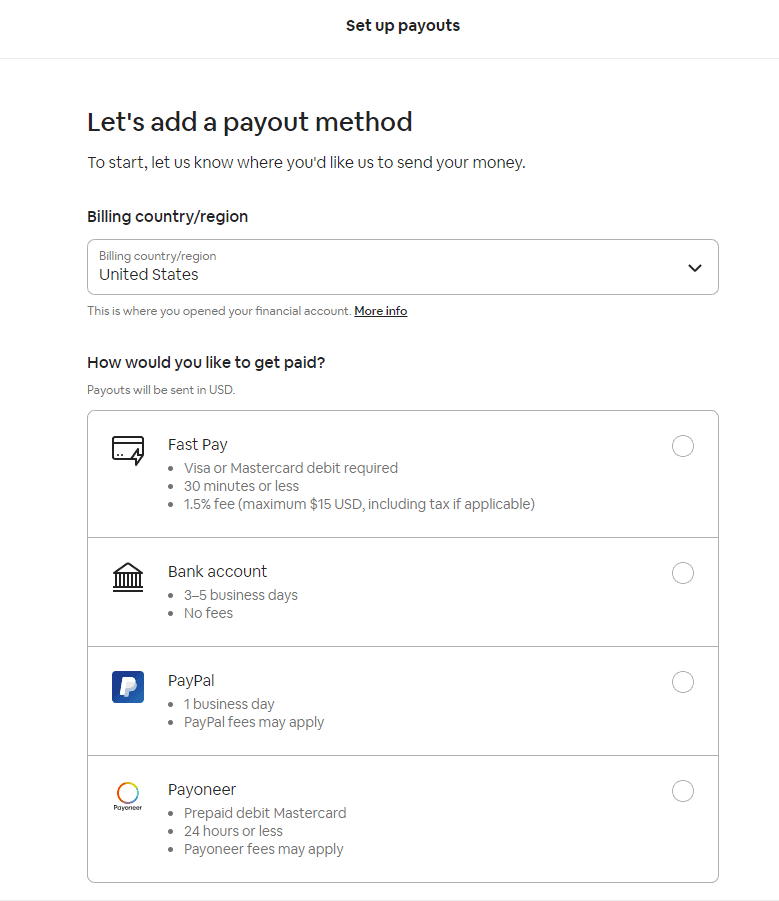 By following these steps, you can easily set up your payout method and start receiving payments from your Airbnb bookings.
You'll find additional information on the Airbnb website2.
What's the Best Payout Method for Airbnb?
As an Airbnb host, you have the freedom to choose the payment method or methods that work best for you. You can adjust your payment preferences whenever your needs change. However, certain money transfer service options may not be available in some regions. In such cases, hosts should consider being open to debit or credit card payments.
Step 2: Guest Pays Airbnb When They Book Accommodation
When a guest submits a reservation request, their payment information is collected by Airbnb. Once you accept the reservation request, Airbnb will charge the guest's nominated payment method for the entire amount at that time.
Step 3: Airbnb Calculates the Payout (Including Service Fees)
To calculate your payout amount, Airbnb takes into account various guest charges and deducts applicable Airbnb fees. Airbnb will also collect the necessary taxes based on the area where you're conducting your business. This ensures that you receive the correct amount3 for the rental and that all taxes are accounted for.
Step 4: Airbnb Pays Out Money to the Host
Once the guests have checked in, hosts can expect to receive payment within one to two days. However, if guests are staying in the rental for more than 28 nights, hosts will receive payment monthly. If you're a new host on Airbnb and receive your first reservation, please note that it may take Airbnb up to 30 days to process your payment. If you have set a minimum payout amount, your payout won't be released until that amount is met. In the event that you have multiple listings with check-ins on the same day, any funds going to the same payout method will be deposited as a single payout. To keep track of the payout status, hosts can check their transaction history4 to see which payments are pending and received. This feature allows hosts to stay on top of their earnings and ensure that they're receiving payment for all completed reservations.
When Does Airbnb Payout?
After Airbnb releases your payout, it undergoes processing before being delivered to your payment provider. Due to this additional processing time, the money could be delayed in arriving in your account.
Here are the estimated processing times for each payout method:
Fast Pay: 30 minutes or less once Airbnb releases the payout (available for US only)
Bank account: 3-5 business days
PayPal: Within 1 business day
Payoneer Prepaid Debit Mastercard: Within 24 hours
International wire: 3-7 business days
Western Union: 1 business day, depending on the country or region
Banking systems don't process transactions on weekends or holidays. This means that your payout may not be processed until the next business day. However, Fast Pay and Payoneer allow payouts to be processed and sent on weekends and holidays. If you use these payout methods, you may receive your payment faster than with other methods.
It's important to keep these processing times5 in mind when planning your finances as a host. You can always check the status of your payouts within your account's transaction history on the Airbnb website.
How Does the Airbnb Co-host Payout Method Work?
As a primary host, you have the option to add a co-host6 to your listing to assist with various tasks, such as responding to inquiries or meeting new guests. It's also very easy to pay your co-host via the Airbnb payment system as you can select the split-payment option under the "routing rules" section within your payment method dropdown. Once you enter the required information, your co-host can receive a payment.
How do Airbnb Aircover Payouts Work?
Airbnb's Host Damage Protection is part of their free policy for Hosts called AirCover, which promises to provide up to $3,000,000 in compensation for property-related damages.
If damage occurs during a guest's stay, hosts can follow these steps to get reimbursed:
Gather evidence of the damage, such as photos, videos, estimates for repairs or cleaning, and/or receipts.
Within 14 days of the guest's checkout, file an AirCover for Hosts request through Airbnb's Resolution Center.
After submitting the AirCover for Hosts request, the guest will have 24 hours to pay. If they decline to pay the full amount or don't respond, Airbnb Support can get involved.
Guests are made aware at the time of booking that their payment method may be charged if damage is done to the property. However, AirCover should not be solely depended upon as your only means of remedy, as it has considerable limitations when compared to specialist rental insurance companies such as Safely.
As the short-term rental market continues to flourish, becoming a Host is an exciting and rewarding experience and a great source of additional revenue. Being a successful host means not only creating a great guest experience but also knowing how to make it work for you. Understanding how Airbnb payouts work is a fundamental part of this, as is protecting your property investments. Getting the right insurance that works with you to maximize your profit potential and that offers rigorous guest screening will ensure your business thrives without fear of liability and stress of unexpected costs. As the leading provider of short-term rental protection, Safely offers guest screening and affordable, comprehensive rental coverage on a per-night basis.
Your Property, Your Business, Your Guests – Protected.
With Safely's Short-Term Rental Insurance
Sources:
Safely's Short-Term Rental Protection
Predictable coverage for unpredicable moments
Get A Quote
Subscribe to our articles