How to Create a Direct Booking Website for Your Short-Term Rental Business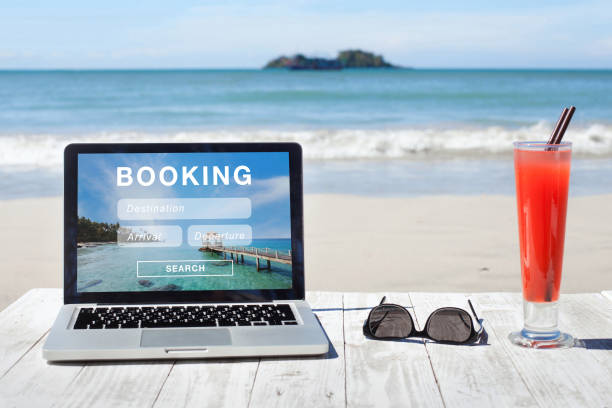 Creating a direct booking website can be pretty overwhelming. While you may have found plenty of examples of gorgeous websites that you'd like to replicate, it can be challenging to create something similar.
On top of that, transitioning from an online travel agency (OTA), like Airbnb and Vrbo, to a direct booking platform has its own management challenges and security concerns. And while taking on direct bookings has its advantages, you want to ensure you're not risking anything in the process.
In this article, we'll guide you through the process of creating a direct booking website step-by-step. Also, we'll discuss the key benefits of direct bookings and share some strategies on how to protect yourself from risks without relying on third-party platforms. Here's what we'll cover:
Benefits of a direct booking strategy
Risks to consider when you focus on direct bookings
How to create a direct booking website: Step-by-step
Protect your business from costly damages with Safely's short-term rental insurance
Benefits of a direct booking strategy
Direct bookings are on the rise. In fact, in a recent report by RentalsUnited and Transparent, property managers predicted that 31% of bookings would be direct in 2022.
Here we take a look at each of the key benefits of having a direct booking strategy, namely:
No commission fees
Longer stays with more value
Better rapport with your guests
Improved brand image
Save up to 35% on booking commissions
Booking fees can really add up, especially if you're listing on multiple platforms. 
To give you an idea of how much you can cut costs and increase profit margins, here's how much some of the top OTAs take per reservation.
| | | |
| --- | --- | --- |
| OTA | booking/service fee | Subscription fee |
| Airbnb | 3%-20% * | $0 |
| Vrbo | 3-8% | $499/year |
| Booking.com | 14-20% | $0 |
| Expedia | 15-30% | $0 |
| Vacasa | 25-35% | $0 |
Longer stays, earlier bookings, and more value
While OTAs can earn you more visibility, they tend to attract more last-minute guests. By creating a website that attracts more direct bookings, you can target guests who are more likely to book earlier and for longer periods of time.
According to a 2021 study conducted by VRMinsights, the average stay value (ASV) for direct bookings was $1,935 while the ASV for Airbnb bookings was $906. That's more than twice the average value for direct bookings. 
And yet, these numbers don't even reflect the amount of time and money saved by avoiding the operational costs of short-term stays, such as:
Housekeeping and turnovers
Guest communication
Maintenance
All of these tasks are simpler and less time-consuming when you have longer stays—which direct bookings can help you achieve.
Build better rapport with your guests
With shorter stays and last-minute bookings, it can be hard to build rapport with guests and give them your undivided attention. Guests might not feel valued or perhaps they didn't receive adequate attention for an issue that came up during their stay. As a result, your reviews could be affected and you might have fewer repeat customers and direct bookings.
By building your strategy around direct bookings, you can free yourself from this cycle of catering to last-minute bookings and compromising your hospitality to do so. Instead, you'll be able to provide more value and build more meaningful relationships with your guests, which is absolutely key to ensuring great stays and positive reviews.
Improve your brand image
Third-party platforms only allow you to go so far when it comes to customizing your listing pages and developing your brand image. When you create your own website, you have more marketing tools at hand.
You can create your own blog, for example, and use SEO strategies to target your audience and gain leads. By creating your own logo, layout, and tone of voice, your business will appear more established and credible. Not only can a direct booking website set you apart from other listings, but it can also create an image that guests buy into and trust.
Risks to consider when you focus on direct bookings
Taking on more direct bookings can feel a little bit like skydiving without a parachute. Security and insurance are obviously your biggest concerns. What happens if someone slips and you're no longer protected by a third party's liability coverage? Without protection, you're putting your business at risk.
Contents replacement, property damage, and injury
You might be afraid to cut out OTAs altogether because they provide protection in case anything goes wrong. Their built-in coverage might even help you stay compliant with local regulations and short-term rental laws. In Massachusetts, for example, operators must have $1,000,000 in liability coverage for each short-term rental property. But in reality, online travel agencies and listing platforms tend to be guest-first solutions. 
For example, to receive reimbursement through Airbnb's built-in Aircover protection, you'll need to try to resolve the issue with your guests beforehand. You're only allowed to make a claim through Aircover if the guest has refused to pay for damages. Even if you manage to do this, there's no guarantee you'll receive payback.
While some local regulations mean you'll need short-term rental (STR) insurance to remain compliant, even without any strict STR laws in place, you need to protect your business from the risk of damages and injury.
Without coverage, you might have to pay for structural or content damages out of pocket. Or, even worse, you could end up in a confrontation with a guest over who should take responsibility for an accident.
Safely's solution is to automate protection for every stay—every named guest, the property manager, and the homeowner. With our simple 3-step claims process, we have a great track record of paying out fast.
Parties, fraud, and high-risk guests
Imagine walking into your property only to find broken glass, mountains of mess, and stained carpets. No matter what kind of guest rules you put in the description of your listing, there's always the risk of guests using your property to throw a house party.
Not only do parties leave your team with a big clean-up operation, but they're also a major threat to your business as a whole. Party guests can leave doors unlocked, damage your property, and even bring neighbors to call the police.
Without the built-in protections of ID verification and an online profile that an OTA can provide, you leave yourself open to high-risk guests with a history of bad stays. 
The simplest way to counteract this is with a guest screening tool. For example, with Safely, guest information is cross-referenced with court records, criminal databases, and international watchlists to help ensure your property is secure.
How to create a direct booking website 
Giving users a positive on-page experience with an intuitive interface will help you turn leads into customers.
But creating a website from start to finish is intimidating. We've broken down the steps you need to take to get started:
Choose a website builder
Find the right templates
Fill your site with top-quality photos
Add useful information for guests
Add a "book now" button
Start off with a website builder
The easiest and fastest way for you to get your website up and running is to use a website builder with predesigned templates. To help you get started, here are some of the characteristics of the most popular platforms.
WordPress
Pros: WordPress is free open-source software with almost limitless customization options available. Additionally, there are plenty of WordPress vacation rental themes to choose from and direct booking plugins available.
Cons: There is some extra setup involved. You'll also need a domain name, hosting subscription, WordPress vacation rental theme, and a direct booking plugin.
Price: $10-$15 per year (domain) + $150-$480 per year (hosting) + $50-$80 (theme) + $50-$70 (widget)
Squarespace
Pros: Squarespace's templates have a very clean and appealing aesthetic and the platform is easy to figure out. Aside from the templates that we've included, you can find an array of options that are specific to real estate and property listings. With some small adaptations, these can easily work well for your vacation rental properties.
Cons: Squarespace does not have a channel manager available and you will need third-party software to take direct bookings.
Price:  14-day free trial. Squarespace offers plans from $14-49 per month.
Wix
Pros: You can find tons of travel and tourism templates to choose from on Wix. Also, Wix offers plenty of ways to customize and add in features, like booking calendars, and a channel manager to your website. Also, the price is very reasonable.
Cons: You'll need to either set up an account with Wix Hotels, Wix's channel manager, or integrate Wix with your vacation rental software.
Price: 14-day free trial. $15-26 per month for website + Wix Hotels
Find the right templates
Bellevue theme for WordPress
Bellevue is one of the most popular short-term rental themes out there. Aside from its tasteful design, the Bellevue package includes availability calendars, built-in forms, and buy pages. When you buy the theme, you're actually buying a collection of templates and fonts to choose from. It's a great option if you're looking for a way to create your own custom look.
Specifically, the Bellevue theme includes:
16 styles and over 400 pages of layouts to choose from
A search form that shows visitors availability based on their travel dates and number of guests
The option to add an unlimited number of rental properties to your website
Seasonal rates and custom pricing options
Also, the Bellevue WordPress theme is particularly user friendly. Unlike other WordPress options, you don't need to have any coding experience to customize the templates. And, there's no need to worry about having to pay a recurring subscription fee. With Bellevue, you pay an initial fee of $59 and receive full ownership.

Suffolk template for Squarespace
Suffolk is one of the few templates on Squarespace that's specifically designed for short-term rental websites. The template is simple, aesthetically appealing, and easily customizable. 
Perhaps the biggest advantage is that the layout is ready-made for booking websites, and doesn't require any coding experience. If you've never created a website before, Squarespace can be much easier to navigate than platforms like WordPress. And with this template, you'll have no trouble at all getting your page up and running fast.
The Suffolk template has:
An image gallery
A fillable contact form
Google maps property view
Social media buttons
A "book now" form
One thing that you should keep in mind is that this template is a favorite for many property managers, so you'll want to find a way to distinguish yourself from the rest. If you decide to go with Suffolk, try adjusting the fonts and adding imagery that really stands out.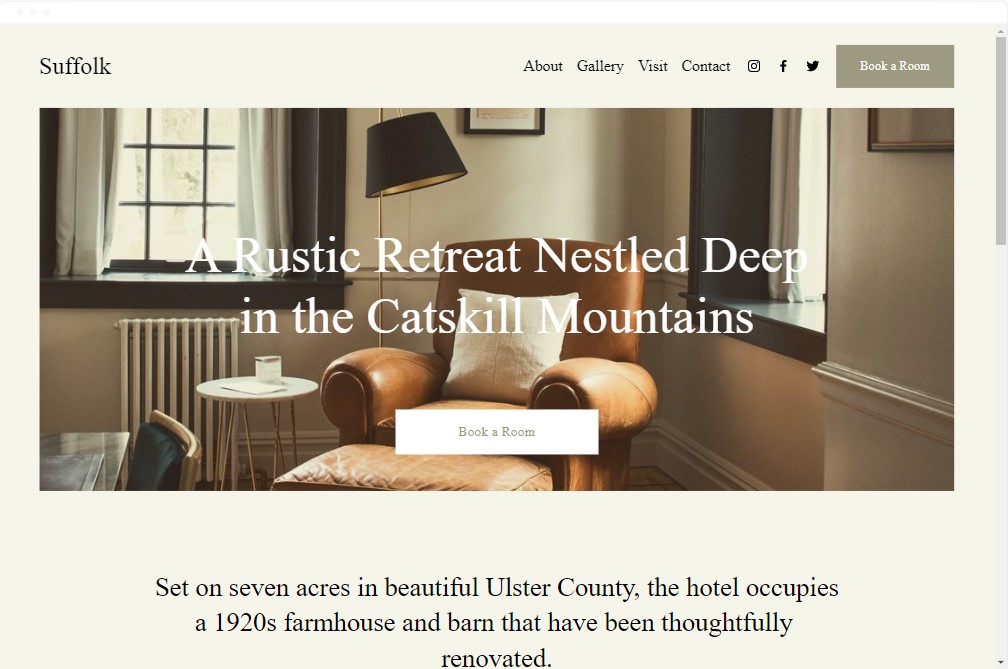 Tropical Villa Rental template on Wix
As the name indicates, Wix's Tropical Villa Rental template is designed for short-term rentals. If you decide to go with Wix, Tropical Villa's clean design and intuitive navigation make it a great choice. The large images and gallery slideshow are especially useful for showcasing properties and surrounding scenery.
Features include:
A search availability form
A contact form
Google maps integration
Social media buttons
Terms and conditions page
Unlike Squarespace's template, Wix's template provides you with a rates and availability page, which can be particularly useful for visitors. In this section, users can easily compare short descriptions of the rooms that are available, their amenities, and nightly prices.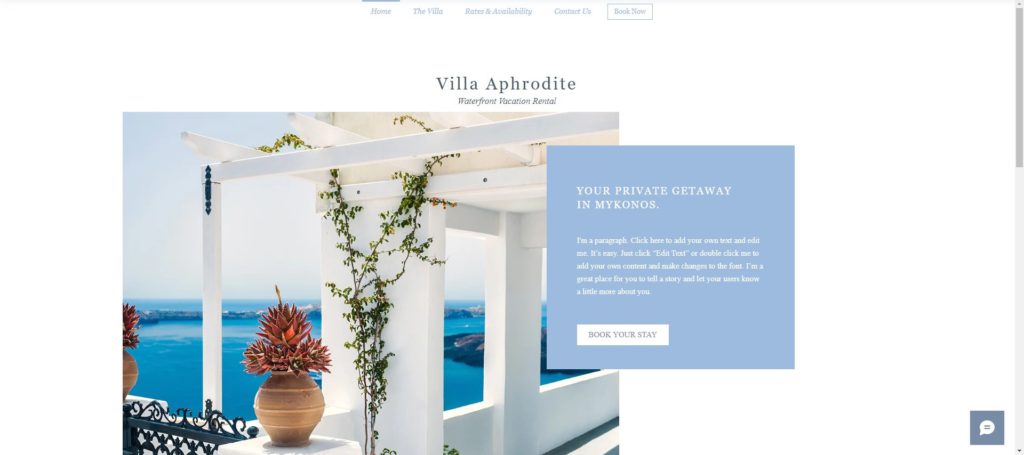 Fill your site with high-quality photos
Use your imagery to show not just the property, but the vacation experience itself. One way of doing this is to show people enjoying a stay. While photographing the porch, capture someone sitting in a rocking chair, sipping on a cool drink, and enjoying the view.
If you can, look for opportunities to add something extra to make your imagery tell a story and get future guests excited about their stay. Try to include a mix of images that show off your property's best features. For example, photos of scenery or someone preparing food on the grill outside.
The extra time you spend preparing and staging your photography will be worth it when visitors to your site decide to take the plunge and book a stay.
Add useful information for guests
When potential guests arrive on your page, they will be weighing out whether they should book with you or go with someone else. Try to put yourself in their shoes and answer any common questions that guests might have. 
Your website shouldn't look cluttered, but the more details that you can provide about your property, the better. Also, having an informative website will help you save time communicating with guests later on.
To help guests find what they need, include:
FAQs section
About page with your picture and bio
Property pages
House rules
Details about amenities
Explanation of the area
Directions to the property
Contact information
Add a "book now" button
Last but not least, you'll want to install a booking widget application to make it easy and user-friendly for guests to make direct bookings.
A booking widget is basically a button that allows customers to see a reservation calendar and availability so that they can easily book their stay. On platforms like WordPress and Wix, you need to install a widget for guests to successfully complete a direct booking.
Here are some of the most popular booking widgets for vacation rental properties:
Hotel booking lite
Lodgify
Beds24
Additionally, here are some widgets that can help to facilitate guest communication:
Secure your direct bookings and future stays
Setting up a direct booking website can be a profitable business decision. Not only will you save on sky-high commission expenses, but you'll also save on the time and operational expenses required to accommodate last-minute arrivals. As a result, you can direct your efforts toward your guests and drive more repeat bookings.
However, leaving behind OTAs comes with its share of liability risks that could jeopardize your business. That's why short-term insurance and guest screening are must-haves for anyone with direct bookings. Securing your business means choosing an insurance policy that gives you, your guests, and property owners peace-of-mind should anything go wrong.
Protect your business from costly damages with Safely's short-term rental insurance
Frequently asked questions about direct booking websites for short-term rentals
What are vacation rental direct bookings?
Direct bookings are reservations that guests make directly with your vacation rental as opposed to a third-party service like Airbnb or Booking.com. Normally, guests make direct bookings through your short-term rental website or over the phone.
Should I have a website for my Airbnb?
Yes, having your own website is a smart business decision if you have an Airbnb. It can give your brand more credibility, help you develop more extensive marketing strategies, and boost the number of direct bookings that you receive.
Why are direct bookings important?
With direct bookings, there's no need to pay commission and service fees to OTAs and third parties. Additionally, having a direct booking website can strengthen your brand image and help you to win repeat customers.
Safely's Short-Term Rental Protection
Predictable coverage for unpredicable moments
Get A Quote
Amanda is a licensed insurance agent and the Vice President of Sales at Safely and has been with the company since 2021, leading new client onboarding and client initiatives. She is especially proud of her team's efforts to successfully drive down annual churn to 3% with a trending net revenue retention rate of 130%. Outside of Safely, you may catch a glimpse of Amanda playing a nurse on TV, prepping for her next art show, or on a date with her husband of 16 years.
Subscribe to our articles