How to Prevent Stolen Items at your Vacation Rental: 5 Need-to-Know Tips
If a guest has ever stolen items from your vacation rental property, you know how frustrating and upsetting it can be. Not only do you lose something that may have been important to you or costly to replace, but you also lose the trust you have in guests in the future.
Fortunately, there are ways to minimize the risk of items being stolen from your vacation rental property during guest stays. In this article, we go into depth about the following tips for dealing with theft at your short-term rental property:
Get short-term rental insurance
Carry out guest screening
Make an inventory of your items
Install a home security system
Keep especially valuable items out of your property
You don't have to be a victim to bad guests and short-term rental theft. Read these tips and minimize the chance of having things stolen at your vacation rental.
Protect your business from costly damages with Safely's short-term rental insurance.
1. Make sure you're insured
The best way to reduce the impact of vacation rental theft is with a short-term rental insurance policy. But not every insurance company will give you the coverage you need, so keep this in mind when choosing a policy.
Traditional homeowner's insurance doesn't normally cover commercial activities, which is why you need a dedicated short-term rental insurance service that can cover your losses in the event of a guest stealing from you during their stay.
A good short-term rental insurance policy includes coverage for:
The contents of your property
Structural property damage
Bodily harm incurred by guests
Pro tip: Some hosts choose to collect security deposits, but this can be a hassle, put people off booking with you, and cause negative reviews. Plus, a deposit often isn't enough to fully cover the value of the missing property or damage caused. That's why short-term rental insurance is a safer, more reliable way to prevent losses caused by guest theft.
Coverage for the contents of your property
If you're worried about theft, short-term rental insurance can give you peace of mind. With the right policy, you can get coverage for the contents of your property so your belongings are protected in the case of guest theft.
Coverage for structural damage caused to your property
With the right insurance, you aren't just covered for theft, but also for guest damage. This means if a guest throws a house party that gets out of hand and breaks a window or permanently stains a sofa, short-term rental insurance can cover your losses.
Coverage for bodily harm incurred by guests
Also, one consideration that many hosts don't think about when renting out their property is physical injury coverage. Imagine a guest falls off a crooked step and gets seriously injured at your property: Short-term rental insurance can help cover related expenses so you don't have to.
2. Screen for bad guests
One of the best ways to prevent having items stolen from your vacation rental properties is to check a guest's background and see if they have anything in their past that could raise a red flag. With the right guest screening tool, you can prevent bad stays before they happen and keep your valuables safe.
Note that screening guests yourself or relying on a booking engine's screening process can be problematic for the following reasons:
When you screen guests yourself, you can run into legal problems: Guests can make claims of discrimination if you do the screening process yourself and refuse their reservation.
If you cancel a booking after a guest makes a reservation, you could lose your Superhost status.
The built-in screening system that most booking engines provide aren't extensive enough to gain useful insights into potential guests, as they primarily consist of a simple ID verification.
But when you use a specialist short-term rental guest screening service, the checks are more thorough. A good guest screening tool should:
Scan county and court records, as well as national and criminal databases
Check potential guests' credit history
Run potential guests through a record of guests who have caused damage to vacation properties in the past
Assign a risk score to each potential guest
Protect you from the potential legal implications of canceling a guest booking
Minimize the risk of bad guests with Safely's automated guest screening tool and rest at ease knowing who's sleeping under your roof. Safely checks:
Criminal databases
Court and driving records
International watchlists
Sex offender databases
A list of guests that have previously caused problems for short-term rentals

3. Make an inventory
In order to keep track of your belongings, you have to know what exactly they consist of. That means being process-oriented and staying on top of what guests do and don't have access to.
Create an inventory of all the items you keep at your property. That way, after each stay, you or your cleaning staff can do a run-through of the property and quickly identify anything that's missing.
Don't just include the most valuable items on your inventory list: If guests continuously take small items from your property, these expenses add up and, worse, affect the experience other guests have in the future. Even the most basic belongings, like cutlery and mugs, should be included on your item inventory list.
Pro tip: If you include the value of each item on your inventory, along with photos, it will be easier to make an insurance claim in the event of a theft.
4. Install a home security system
Security cameras are a good way to monitor theft at your short-term rental property, but you need to be hyper-aware of guest privacy when setting them up. Appropriate places to install security cameras at your short-term rental include on the front porch and back deck (if applicable), and you should never install cameras inside the home.
That way, you can see if any large valuable items are leaving the property. A security camera outside of your front door also deters guests from stealing items, as they know you have eyes on your property and are vigilant of your belongings. Plus, this is a good way to keep an eye on the occupancy of your property, as unapproved visitors can be another cause of theft.
A great solution for a short-term rental home security system is a video doorbell (as long as you disable the device's audio capabilities), such as the Ring doorbell camera. Another good option is the Google Nest Cam, which you can also set up outdoors so you can monitor who is coming in and out of your property (and what they're leaving with).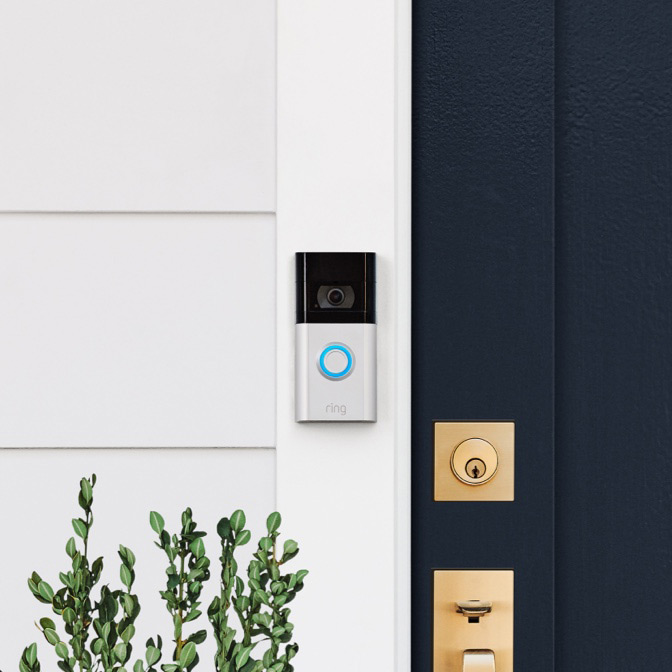 5. Remove highly valuable items from your short-term rental property
Some items of value, such as a television and quality linens, are a necessity for guest comfort, but your family heirlooms or favorite mementos don't need to be there.
While short-term rental insurance and damage protection can help pay for theft of high-value items, it can never replace the sentimental value of your grandmother's antique lamp or that ornate vase you brought back from a trip abroad.
So be strict about removing anything that's valuable or significant from your property.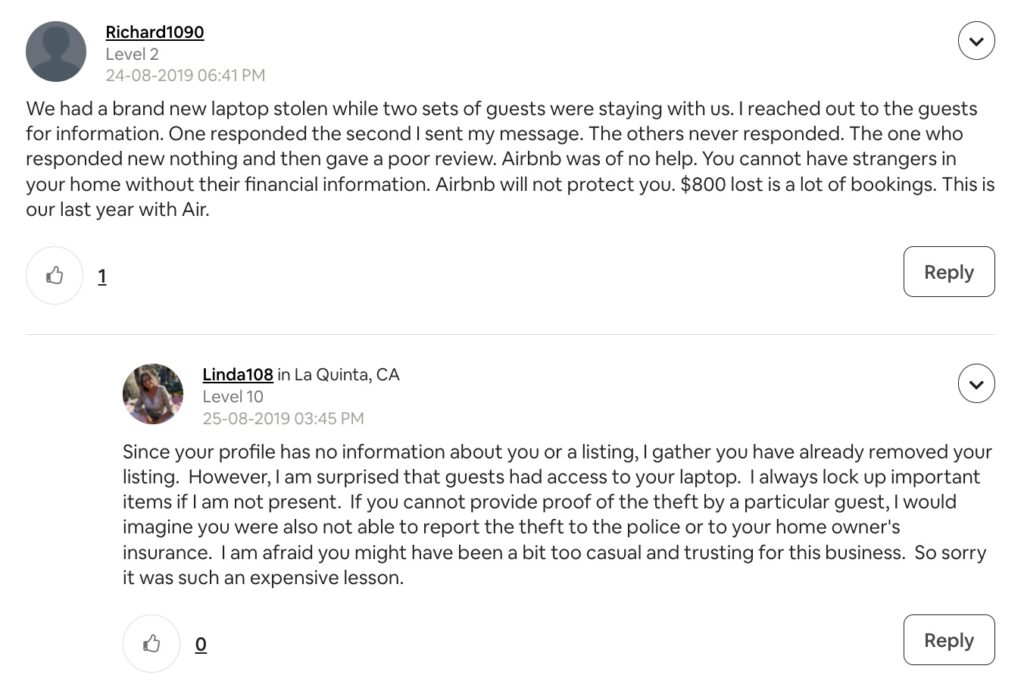 Minimize losses from vacation rental theft with short-term rental insurance
There are certain actions you can take today to minimize the risk of theft occurring at your vacation rental property. Making an inventory, installing a home security system, and removing especially valuable items from your property is a good place to start.
But if you really want to cut down on stolen items at your short-term rental property and the damage they cause, use an automated guest screening tool to prevent bad stays before they happen.
But be aware that even with a highly effective guest screening system, items may go missing every now and then when renting your property to strangers. Sign up for short-term rental insurance to get your money back in days if theft does occur.
Protect your business from costly damages with Safely's short-term rental insurance.
Frequently asked questions about stolen vacation rental items
Do people steal from vacation rentals?
While people don't generally steal things from the vacation rental properties they stay at, it certainly can and does happen. This is more likely if you don't vet your guests before their stay, as well as if you leave small valuable items that are easy to steal at your vacation rental property.
Does Airbnb cover stolen items?
While Airbnb does cover stolen items at your short-term rental property as a part of AirCover for hosts, the claims process is often long and tedious. Plus, there are numerous reports of hosts not receiving the reimbursement that they made in their claim with the Airbnb Host Guarantee.
What should I do if someone steals from my vacation rental?
There are a few actions you can take if someone steals from your vacation rental. First off, if you have a security deposit in place, you should contact your guests with a view to recuperating the value of the stolen items.
If you don't have any protections in place, your best option is to be proactive and prevent potential theft in the future. You can do this by investing in a short-term rental insurance policy and screening guests before you choose to let them stay at your property.
How do I report stolen items from a vacation rental?
If a guest does steal items from your vacation rental property, you can certainly file a police report, but that won't help you recuperate the value of what you've lost. That's why vacation rental insurance is the best way to protect yourself from the impact of having belongings stolen at your vacation rental.
Safely's Short-Term Rental Protection
Predictable coverage for unpredicable moments
Get A Quote
Andrew is the co-founder and CEO of Safely, the industry's leading protection for short-term home rentals through its guest screening and liability insurance.
Subscribe to our articles