How Keyless Entry Enhances Short-Term Rental Efficiency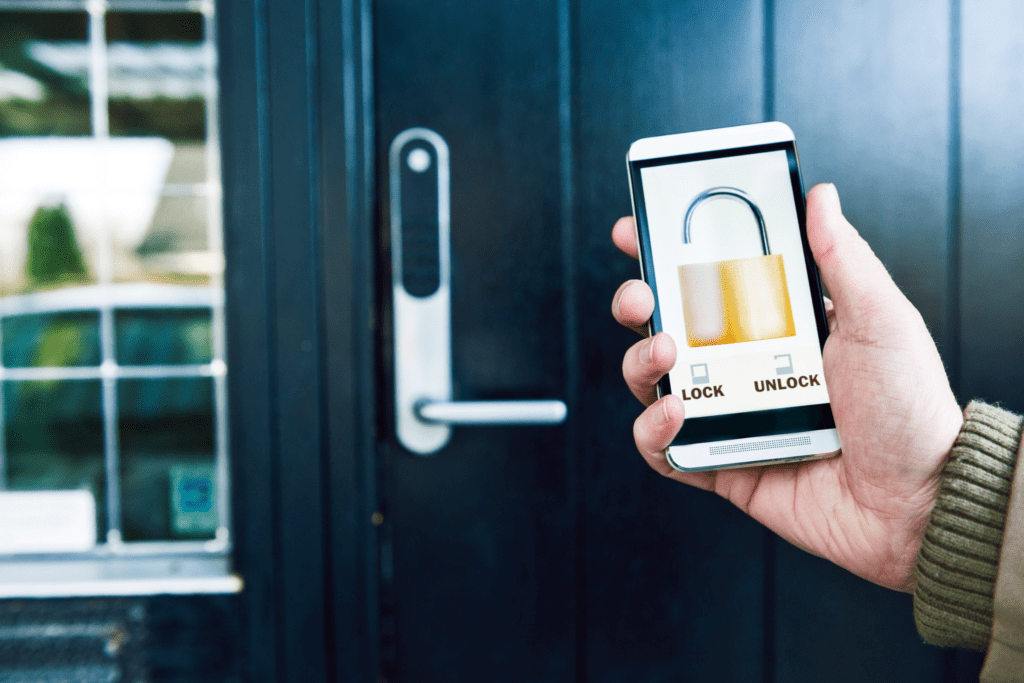 The Role of Keyless Entry Systems in Streamlining Short-Term Rental Operations
We've all heard the saying "time is money," and as a property manager, you know how true that can be. Managing a short-term rental can be a complex and time-consuming process, with tasks such as key exchange, check-in, and check-out requiring significant coordination and effort. And with only so many hours in a day, the last thing you need is for a guest to get locked out of a property or lose a key, requiring more time from your busy schedule to remedy the issue.
However, the use of keyless entry systems can be a simple solution to this recurring issue for many property managers. Not only do these systems eliminate the need for physical keys and the logistical challenges associated with them, but they also allow you to efficiently manage your business operations by helping you save time and money.
So, let's take a look at the benefits of keyless entry systems, and the role they play in keeping your short-term rental business running smoothly.
What are Keyless Entry Systems?
Keyless entry systems are electronic locks that allow guests to enter a rental property without a physical key. Instead, the door can be unlocked using a code, keycard, or smartphone app. These systems are becoming increasingly popular in the short-term rental industry because of the benefits they offer to both property managers and guests.
Benefits for Property Managers
No More Key Management Hassles
Traditional key-based entry systems can be a headache for property managers. Keys can get lost or stolen, and it can be time-consuming to replace them. With a keyless entry, you won't have to worry about managing physical keys. You can easily assign unique access codes to each guest and revoke them when the guest checks out. This means you can manage access to your property remotely, from anywhere in the world, without having to worry about keys being misplaced or copied.
Increased Security
Keyless entry systems are more secure than traditional key-based systems because they eliminate the risk of lost or stolen keys and prevent unauthorized visitors from having access to the property. And because most of these systems have advanced encryption algorithms, it's nearly impossible for someone to hack or copy the access code. You can also set up the system to notify you when someone enters the home, giving you peace-of-mind that your property is secure.
Streamlined Check-In and Check-Out
With keyless entry, guests can check themselves in and out of the property, saving you time and resources. You won't have to be physically present to hand over keys, and you won't have to worry about coordinating check-in times with your guests. In addition, you can set up your keyless entry system to automatically generate access codes for your guests and send them directly to their email or smartphone, simplifying the check-in process even more.
Remote Access and Control
Most keyless entry systems offer remote access and control, which means you can manage your short-term rental property from anywhere in the world. This is particularly useful if you own multiple properties or if you're traveling and need to check on your rental property. With remote access, you can monitor access logs, change access codes, and receive real-time notifications whenever someone enters your property.
Benefits for Guests
Convenience
Keyless entry systems offer convenience for guests because they don't have to worry about losing, misplacing, or keeping track of a physical key. Instead, they can use a code, keycard, or smartphone app to unlock the door. It also makes the check-in and check-out process faster and more efficient. And, it keeps guests from locking themselves out of a property and having to wait for the host to let them back in, which can lead to a negative experience for both the guest and the host, possibly resulting in bad reviews.
Increased Security
Guests will also appreciate the increased security that keyless entry systems offer. With traditional key-based systems, there is always a risk of lost or stolen keys, which can compromise their safety. With a keyless entry system, they can feel confident that they are the only ones with access to the property. And because most keyless entry systems make it almost impossible for someone to copy or hack the access code, it provides guests an extra level of comfort and security.
Enhanced Guest Experience
Keyless entry systems can enhance the guest experience by offering a safe and convenient way to access the property. In fact, many guests expect contactless arrival and entry, and even look for it when booking. It also eliminates stress in the case of travel delays by preventing the need for guests to be present for physical key handovers. Guests will appreciate the ease of the entire process and they may even leave positive reviews of your property as a result.
Ensuring Short-Term Rental Success
Keyless entry systems offer several benefits for both property managers and guests. They can save time, money, and resources, while also increasing security and enhancing the guest experience. And if you're looking to streamline your short-term rental operations, the last thing you need is for something to go wrong without a way to take care of it. This is why having the right tools, processes, and protections in place is going to help ensure the long-term success of your short-term rental business.
At the end of the day, keyless entry systems are just one way you can invest in the safety and security of your property and your guests. By pairing this system with a dependable short-term rental insurance, like Safely, you can ensure that your property, your guests, and your business are set up for success.
Protect your business from the unexpected with Safely's Short-Term Rental Insurance.
Safely's Short-Term Rental Protection
Predictable coverage for unpredicable moments
Get A Quote
Subscribe to our articles